The Department for Education (DfE) has finally released all the application forms for successful free schools after a freedom of information battle lasting more than two years.
The DfE originally refused to release the documents which it said would give an unfair advantage to other potential applications, and open those who applied to unwarranted scrutiny.
But Schools Week revealed in September last year that the department had agreed to release the details.
The disclosure followed a freedom of information request from Laura McInerney – now Schools Week editor – who requested application forms for all free schools.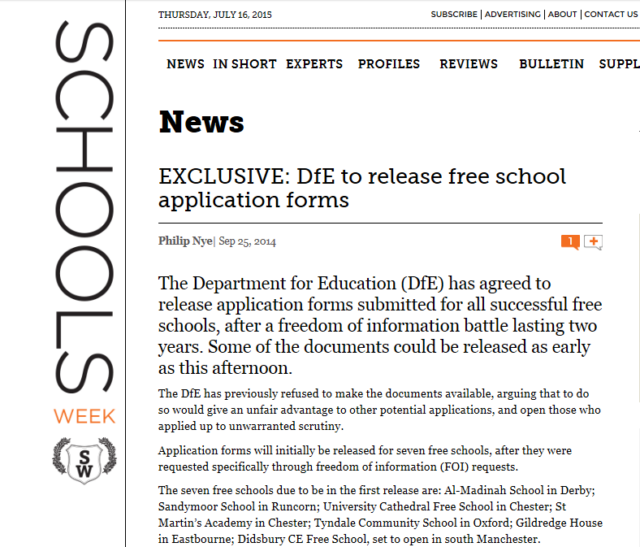 The DfE took Ms McInerney's request – for successful and unsuccessful free schools – to a judicial review in June last year, where it argued that it would cost too much to redact details of all of the documents.
The judge in the case agreed with this decision, though found that it would not be too costly to answer individual requests for application forms.
The DfE voluntarily released the details for seven free schools in September last year. And a further tranche was due to be released at Easter, but was published today – the day after Schools Week went to press for its final print edition before the summer.
The DfE has also released the letters sent to successful free schools.
In the application forms, free school proposers must provide details of the demand for the school and details about how it would be run.
Application forms and decision letters for unsuccessful free school proposals will not be released.
Wave 4
Transparency data: Approved free school application forms: wave 4
Transparency data: Letters sent to successful free school applicants: wave 4
Wave 5
Transparency data: Approved free school application forms: wave 5
Transparency data: Letters sent to successful free school applicants: wave 5
Wave 6
Transparency data: Approved free school application forms: wave 6
Transparency data: Letters sent to successful free school applicants: wave 6
Wave 7
Transparency data: Approved free school application forms: wave 7
Transparency data: Letters sent to successful free school applicants: wave 7
Wave 8
Transparency data: Approved free school application forms: wave 8
Transparency data: Letters sent to successful free school applicants: wave 8