Pupils at three free schools in Suffolk will get an extra week off in the Autumn half-term as a trust "aligns its terms with independent schools".
The Seckford Foundation Free Schools Trust wrote to the parents of its schools last month to explain an additional week will be added to the October half-term this year.
Principal Robert Cawley, in the letter, said: "Overall, the trust aims that by having a two week half term, students will be more refreshed to learn achieve and make progress in the second half of term leading up to Christmas."
He said the move was motivated by aligning the schools' term structure to those of independent schools.
Mr Cawley added: "Having a two week half term means that parents/carers could choose to have a holiday at a time when costs are cheaper than in the traditional half term break, thereby reducing the need to take holidays in term time.
"However, it is important to note that we are not promoting or condoning taking out the siblings of students at our free schools where they attend schools that do not have a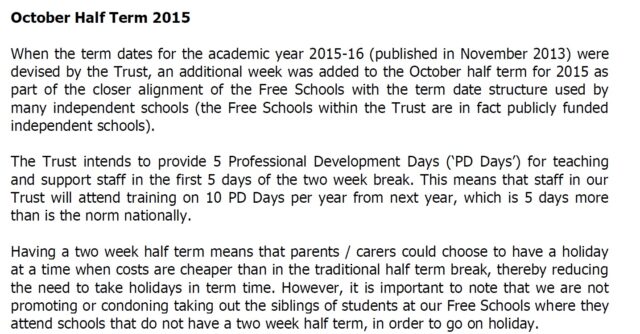 two week half term, in order to go on holiday."
He says teachers and support staff will have five extra professional development days in the first week of the break.
It would take the number of staff professional development days to 10 a year.
For parents worried about getting time off work, he continued: "Parents who are concerned that their children might need learning-based activities during this longer break or need an activity for their children whilst they are at work could opt for a place on our half-term activity week programme with Xplore."
It would cost £125 for the five days. However that cost is based on 24 pupils doing the activity. If less pupils sign up then parents would have to pay extra.
Academies and free schools are not bound by laws regulating the school day and year. Maintained schools must meet for at least 390 sessions or 190 days during any school year.
If schools want to reduce the number of days they have to meet they can make an application to the Secretary of State asking for a temporary exemption.
The trust, which was set up in 2012 by the Seckford Foundation, runs three schools, Beccles Free School, Ixworth Free School and Saxmundham Free School.
The Beccles school states on its website the school day is divided into six main periods of learning from 8.30am-3.55pm.
The website reads: "One of the key difference between Beccles and other secondary schools in the area is the length of our school day. We have a longer day to maximise learning, incorporate enrichment opportunities for all and to add to the expertise of a proper working day to increase the employability of our students."
The timetable shows the school is open from 8-8.30am for breakfast club with a seventh lesson – optional extra-curricular activities – from 4-5pm.