High-achieving students in Doncaster are being offered £500 in a bid to lure them to a new free school sixth-form.
New College Pontefract applied to the Department for Education (DfE) last month to set up New College Doncaster, which would open in 2016.
The website for the new sixth-form advertises an 'academic scholarship' in which: "If you are predicted to achieve more than 5 A grades in your GCSEs, we will offer you the opportunity to receive £500 and a place in our Excellence Academy to support your post-16 education."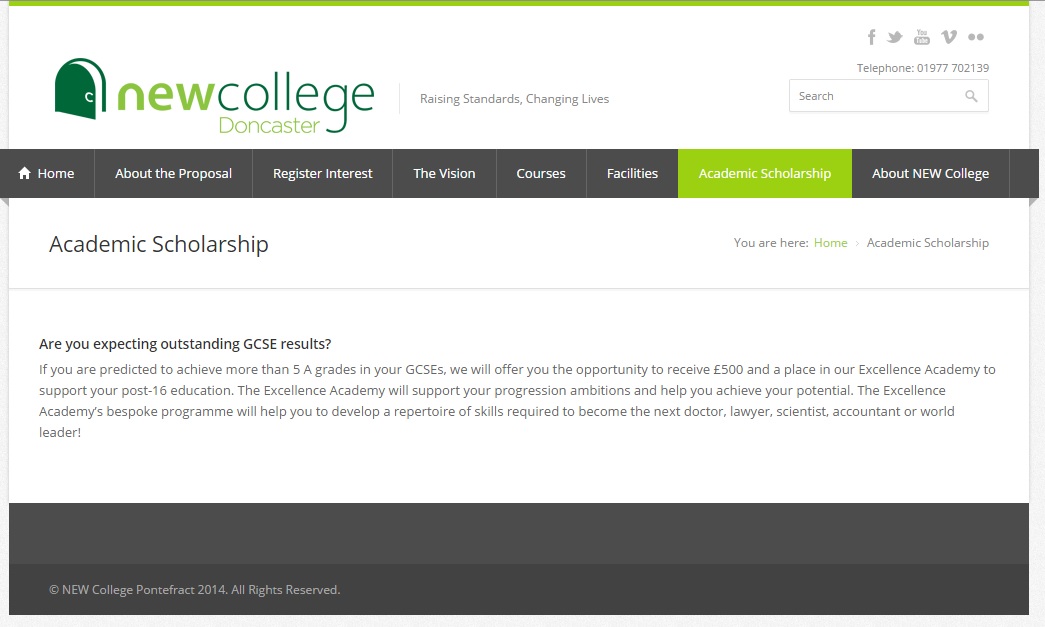 The proposed sum of £500 has been described as an "incentive", but the college were not able to say how much it would cost in total.
Richard Fletcher, vice principal at New College, told Schools Week all eligible students would be paid the £500, but "we wouldn't know how many students would receive this until we opened."
Professor of education and public policy at Durham University, Stephen Gorard, has expressed concern over the use of public money to incentivise enrolments in this way.
When asked about the scheme he said: "I have never heard of this before and I can't see that it would be an ethical use of funding, given that it would cost money from the public purse that could have been spent on something else."
He also raised concerns over the social repercussions this could have on pupils who eventually attend the institution.
"There is a correlation between attainment at 16 and family background and advantage and therefore this funding incentive doesn't seem right to me.
"The concern I would have is that if the money incentive attracts the highest-attaining students in the area, then the mix of students at the school might end up with a more socially segregated system because of the association with the attainment of post-16 and social background.
"That would be a shame, because what you want is a mixture of attainment and a mixture of background in the institutions across the area.
"This makes a difference because it offers role models for others and tends to increase aspirations."
New College Pontefract needed 1,000 signatures of support as part of their application, which Pauline Hagen, principal at New College Pontefract (pictured), said had been achieved.
The DfE are due to confirm next month whether or not they have reached the next stage in the free school application process.
Main pic: Pauline Hagen
Edition seven editorial
A proposed sixth-form free school advertising £500 incentives to new pupils is at best questionable, but at worst it's an uncosted bribe.
The 'academic scholarship' is not a bursary for materials, travel or meals, typically given to pupils with parents on low incomes.
It is also not a financial incentive for high attendance levels, which some colleges have continued to offer following the end of the Education Maintenance Allowance.
Put simply, it is lot of money for doing well in your GCSEs, elsewhere.
And New College Pontefract needed 1,000 signatures to proceed to the next stage in the free school proposal process.
So it seems likely the "opportunity to receive £500? helped drum-up support for signatures.
If it can be proven that the offer influenced the number of signatures then the government should consider taking a closer look.
Either way, schemes like this warrant scrutiny, whether or not it proves expensive for the college.
Nick Linford, editor