The Department for Education has today published an analysis of two headline measures in the new 16-18 league tables. (Read more about the measures here)
The two measures – which are retention, and a completion and attainment score – were not published in the main release of 2016 league table scores in January.
The government said its overhaul of the 16-18 accountability system was to "make the system fairer, more ambitious and more transparent".
But the findings make stark reading for free school performance. Schools Week has the key findings:
1. Pupils are more likely to finish A-levels compared to other subjects (such as BTECs)
More than 96 per cent of A-level students stayed with their course until the end of their programme.
That compared to 87.9 per cent of students who took 'applied general' qualifications (e.g., vocational courses such as BTECs ).
The retention rates are broadly similar between men and women but male students are one percentage point more likely to complete a Tech level course.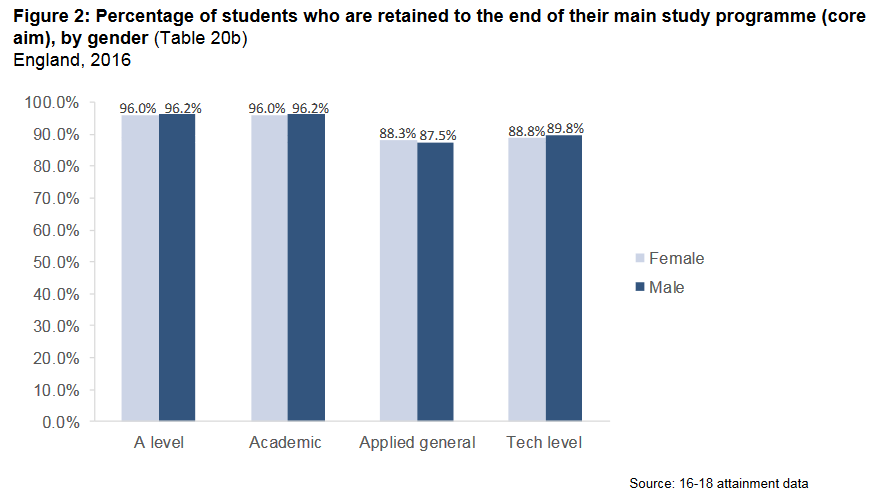 2. A-level students at free and studio schools appear to be most likely to drop out… (bar FE colleges)
The report breaks down retention rates per institutions but with the big caveat that "care should be taken when comparing across institution types due to significant differences in number of students".
The report highlights there are very low numbers of students in free schools, 16-19 free schools, university technical colleges and studio schools, compared to other institutions.
However, it provides an early insight into how some of the government's flagship school types are faring with 16-18 pupils – and it's not looking that great.
At A-level, free schools and studio schools have the third and second lowest retention rates.
Schools with the highest A-level rentention rates are converter academies, followed by local authority maintained schools.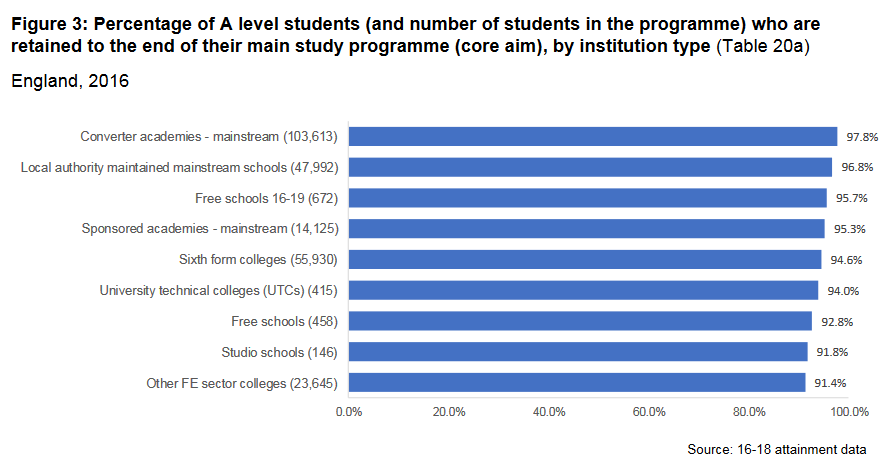 3… and free schools don't fare much better in other courses
Free schools came bottom of the table for retention rates of students taking applied general, and also Tech courses too.  (Although, again they have much lower numbers of pupils taking courses).
University technical colleges have the best retention rates for applied general students at 90.7 per cent, compared to the 77 per cent at free schools.
Both have under 200 students. In comparison, there were 15,860 applied general students at sixth form colleges (which had an 89.8 per cent retention rate).
4. East Midlands has most underperformers, North East has least
The new performance measures also include a 'below the Tech level minimum standard'.
A 16-19 provider falls below this level if it has a completion and attainment score below -0.90 (a threshold set by the government).
A total of 27 providers (4 per cent), fell below. Of these, 25 (6.5 per cent) were state schools, and two were (0.7 per cent) further education colleges.
Broken down by region, the East Midlands had the highest proportion of underperforming providers (4 out of 53 assessed).
The North East had no underperformers from the 47 assessed in its region.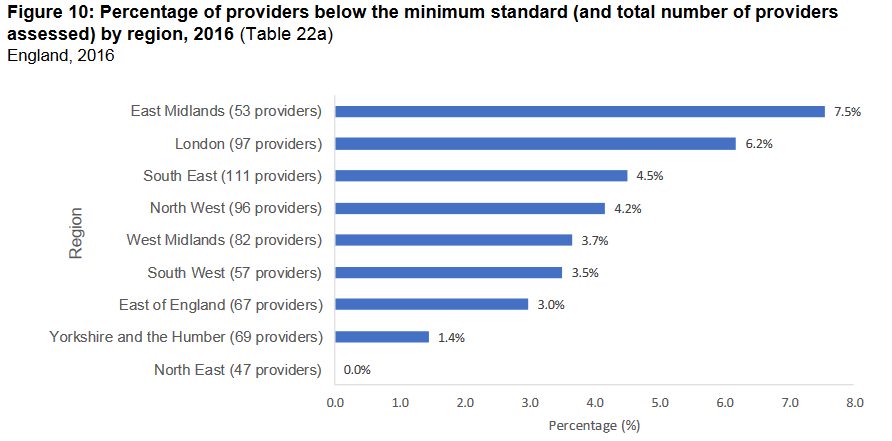 Save