Efforts to "level-up" school funding in England will benefit better-off pupils more than their poorer peers, according to new analysis by the Education Policy Institute.
The think tank has published analysis of school funding allocations for 2021-22.
The government is now in its third year of allocating funding to councils based on its new national funding formula, supposedly a fairer way of distributing money which is meant to tackle historic disparities in funding levels. Ministers are also in the process of increasing the schools budget by just over £7 billion over three years.
But the EPI found that funding increases "are set to disproportionately benefit pupils from more affluent backgrounds".
Here are four things we learned from the analysis.
1. Disadvantaged and non-white pupils will still be receiving more…
The analysis found that in primary schools, pupils eligible for free school meals will receive around £240 more than non-FSM pupils, while pupils with English as an additional language will receive £330 more than non-EAL pupils and non-white British pupils will receive £310 more than white British pupils.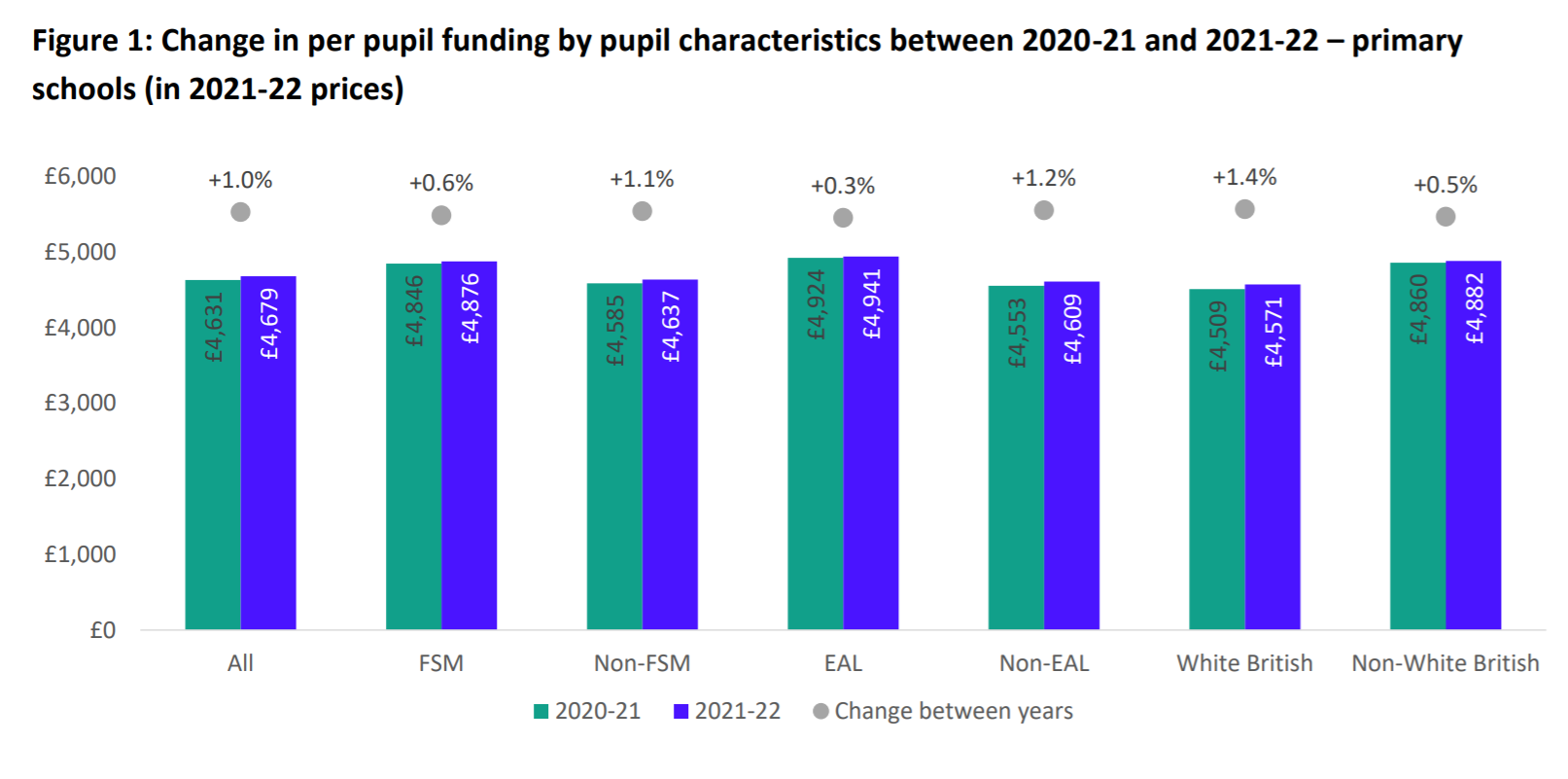 This is also the case in secondary schools, but at that level, the differences are £370, £540, and £510 respectively.
According to the EPI analysis, the differences "result from a combination of pupil characteristics within the NFF, the areas of the country with such pupils (higher funded London for example has a disproportionately high number of EAL pupils), and the historic funding of the schools that they attend".
2. …but the differences are getting smaller…
The EPI compared funding levels for pupils with different characteristics in 2021-22 with levels seen in 2020-21, and found that FSM, EAL and non-white British pupils will be receiving "smaller increases than other pupils this year".
For example, after controlling for inflation, FSM-eligible pupils in primary schools will see increases of 0.6 per cent, compared to increases of 1.1 per cent for non-FSM pupils. White British primary pupils will see their funding increase "at over twice the rate of non-white British pupils, and non-EAL primary pupils will receive increases at three times the rate of those for EAL pupils.
3. …and they have been for some time
The EPI also compared funding rates with those seen in 2017-18, the last year before the NFF was introduced, and found that the same pupils have seen smaller increases for several years.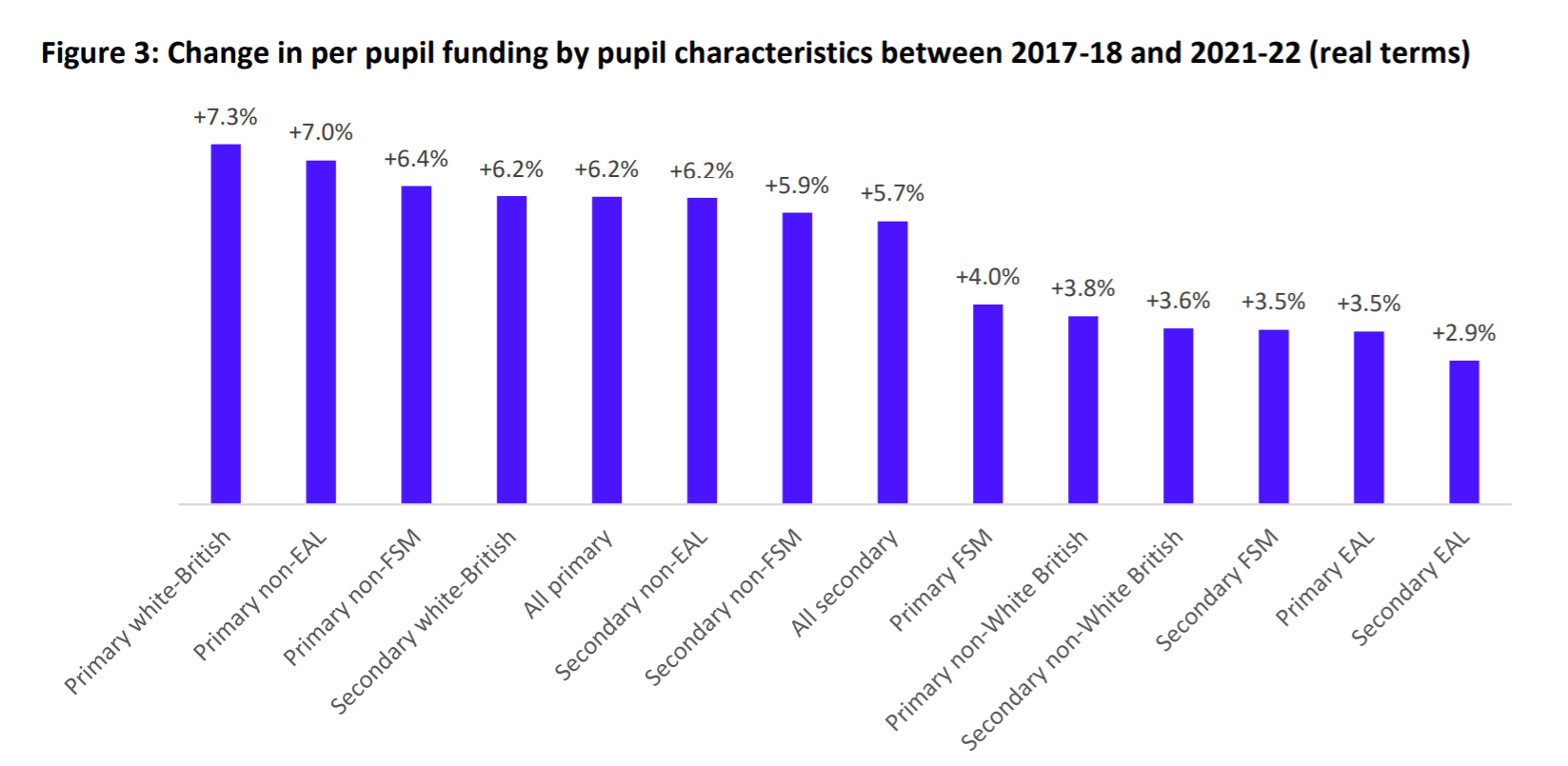 This analysis found that EAL pupils had received increases at half the rate of other pupils in both primary and secondary schools, pupils from non-white British backgrounds received increases at just over half the rate of other pupils in both primary and secondary schools, and FSM-eligible pupils received increases at around two-thirds of the rate of non-FSM pupils.
4. Minimum funding levels are actually making funding less fair
As part of efforts to level up school funding, the government has introduced new minimum funding levels for schools.
The analysis states that although the NFF is meant to ensure that no matter where they go to school, pupils with the same characteristics should receive the same level of funding, the approach to levelling up funding is "having a distorting effect on that aim".
"In order to meet its commitment to achieve minimum levels of funding in both primary and secondary schools the government includes an additional factor in the NFF to essentially make up the difference if the pupil level allocations are not sufficient to meet these minimums," the analysis states.
The EPI said the "squeezing-up" effect is clear to see in its analysis, adding that around one in five schools will receive funding "at, or close to, the minimum funding level".
"Where funding has been increased to reach these levels, it means that pupils in these schools are receiving more than pupils with the same characteristics in otherwise more highly funded schools."