A higher proportion of looked-after pupils were absent from school last year, and more got suspensions, new data reveals.
The government has released stats on the attainment, absence and exclusion rates of children living in a care home or a children's home.
However, fewer were permanently excluded, and the proportion passing English and maths has improved ever so slightly.
Schools have new obligations for looked-after and previously looked-after pupils, including having at least one member of staff trained in attachment and emotional trauma.
Schools Week has some of the key findings from the data.
1. Absences among looked-after children rose
The overall absence rate for looked-after pupils increased. 3.9 per cent of sessions were missed in 2016, rising to 4.3 per cent in 2017.
Authorised absence rose slightly from 2.9 per cent of sessions to 3.1 per cent. Unauthorised absence has also crept up from one per cent to 1.2 per cent.
However the percentage of looked-after children who were persistently absent has remained steady over recent years, from 10.1 per cent in 2013 to 10 per cent last year.
Absence rates for looked-after children are lower than for all children, who missed about five per cent of sessions in 2017.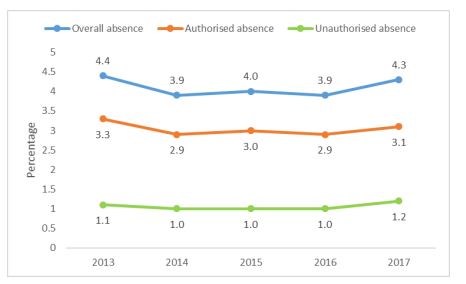 2. A higher proportion were suspended – but fewer were excluded
In 2016 11.44 per cent of looked-after children had at least one suspension, an increase from 10.88 per cent in 2015. The 2017 exclusion figures only come out in summer.
But the percentage of looked-after children who were permanently excluded dropped, from 0.14 per cent in 2016 to 0.10 per cent in 2015. This is the lowest figure in four years. See the graph on permanent exclusions below.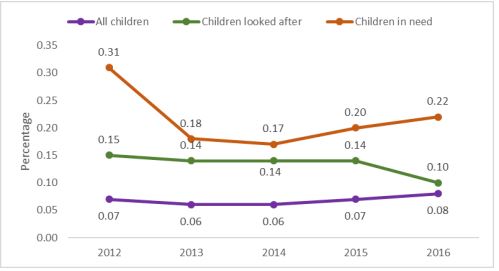 3. A slightly higher proportion passed English and maths this year
In 2017 a higher percentage of looked-after children achieved a grade 4 pass in English and mathematics, rising from 17.4 per cent to 17.5 per cent.
However, they still get much lower attainment than their non-looked-after peers.
For instance, 51 per cent of looked-after children reached the expected standard in reading at key stage 2, compared with 76 per cent of other pupils.
Similarly, 39 per cent achieved the expected standard in writing, compared with 68 per cent. 46 per cent reached the standard in mathematics compared with three-quarters of other pupils.
Finally, 60 per cent reached the standard in science, compared to 83 per cent of other pupils.
Their results were slightly higher than last year for reading, writing and science, and the same as last year for mathematics.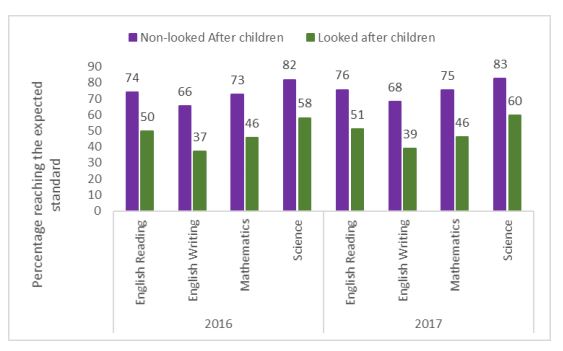 4. More than half of looked-after pupils have SEND needs by key stage 4
More than half (56 per cent) of looked-after children at the end of key stage 4 have a special educational need (SEN) identified, compared to 14 per cent of non-looked-after children.
The most common primary type of need is social, emotional and mental health, covering 38 per cent of those with an education health and care plan or statement. This contrasts with just 12 per cent of all pupils.
But even when looked-after children with identified SEN needs are removed, non-looked-after children still significantly outperform them. Non-looked-after children have an average Attainment 8 score of 49.3 compared to 30.8 for looked-after children without SEND needs.