More than four in ten Kent primary schools are dependent on fundraising to deliver basic education for their pupils new research has found, and one charity believes the problem stretches nationwide.
In 2018, 43 per cent of primary schools in Kent reported that they were reliant on fundraised income to deliver day-to-day, statutory teaching activities, compared to 28 per cent who said the same in 2016.
The proportion of schools relying on fundraising to deliver wider, curriculum-enhancing provision also rose dramatically, from 52 per cent in 2016 to 75 per cent in 2018.
The study 'A bridge too far?', by Alison Body, faculty director for early childhood at Canterbury Christ Church University, and Eddy Hogg, lecturer in social policy at the University of Kent, followed up on previous research into voluntary action in primary education from 2016.
It found that schools in the area are becoming increasingly dependent on this kind of support and it is creating a gap between those that are highly effective at coordinating voluntary help and those that are not.
Michelle Doyle Wildman, acting CEO of Parentkind, a charity that supports parents' involvement in education, said the findings would be recognisable to many.
"Parents make a huge contribution to schools, not just financially, but in their goodwill and the time they are willing to commit to help build school communities. The data is not surprising and the trends exposed here are something many of our members will recognise."
According to Parentkind's annual member survey for 2017, parents volunteered for an average of three hours a week with their PTA, and a fifth (112) of those surveyed said they had raised over £10,000 in the last financial year, with the money primarily dedicated to classroom materials.
Body and Hogg's new research analysed financial data from 306 primary schools in Kent and distributed a survey to headteachers and chairs of governors at each school, with a 23 per cent response rate.
They conducted follow up interviews with 10 headteachers and chairs, and also looked at Parent Teacher Association data obtained from the Charity Commission.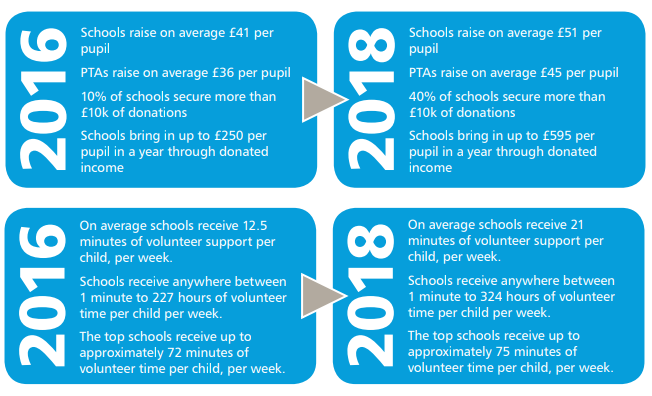 They found that the amount of voluntary action in primary schools had increased in terms of both "donations of money and time" since 2016.
The donations raised on average had risen from £41 per pupil per year in 2016, to £51 per pupil per year in 2018.  Meanwhile the amount of volunteer time had increased from 12.5 minutes per pupil per week in 2016, to 21 minutes per pupil per week in 2018.
This push to attract more voluntary action has been "brought about by necessity rather than choice" as a result of budget pressures, the researchers said.
Schools in the area were targeting fundraising activities at "less traditional sources, such as businesses or foundations", and "taking a whole-school approach to volunteer recruitment".
Voluntary action should not be considered part of core funding for school services. We have a serious problem if that's what we are now relying on.
The work also revealed some "breakaway" schools are much more effective at gathering support than others, with the highest fundraising one per cent of schools raising 10 per cent of the total amount collected across the local authority.
The greatest amount raised was nearly £600 per pupil per year in 2018 – more than double the highest figure of £250 per pupil per year in 2016.
Body told Schools Week she hopes the research will "bring recognition and awareness, not just of the amount schools are now reliant on voluntary action, but also of the inequity across schools".
"While voluntary action is fundamental to children's understanding of democracy and citizenship, it should not be considered part of core funding for school services. We have a serious problem if that's what we are now relying on."
Kent County Council and the Department for Education have been approached for comment.