A private school set up by the founder of a collapsed academy chain has closed six months after it opened – leaving more than 80 pupils stranded.
Schools Week revealed last week that parents and staff at Henriette Le Forestier preparatory school in Croydon, south London, were told it would break up nine days before the scheduled Easter vacation.
A letter to parents said that a drop in pupil numbers and unpaid fees of about £75,000 had caused financial problems.
Parents were urged to pay up, with talks ongoing for extra investment to ensure a "sustainable future".
But staff were told on Monday that the school would now close permanently after two education organisations declined to invest. Parents are said to be in talks to see if they can take it over.
The £9,000-a-year private school was taken over last September by a firm run by Trevor Averre-Beeson (pictured), who co-founded the Lilac Sky Schools Academy Trust (LSSAT).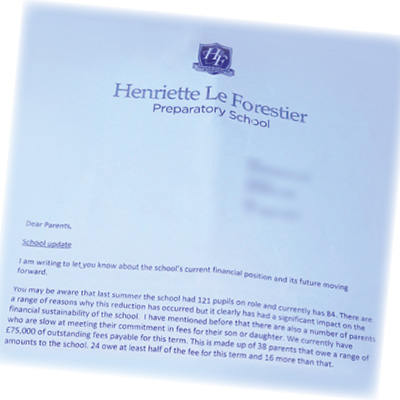 LSSAT was closed by the government and its nine schools handed to other academy chains last year, following poor performance at some schools and concerns over financial issues. Averre-Beeson stood down as its chief executive in 2015.
Martin Powell-Davies, London regional secretary for the National Union of Teachers, told Schools Week on Tuesday evening: "Staff have already seen money withheld from their February salary, leaving some unable to meet their expected monthly direct debits.
"We are urgently seeking to clarify what salary and pension payments are still owed and to insist that Mr Averre-Beeson pays staff in full, along with appropriate notice and redundancy pay."
Schools Week understands a redundancy process is ongoing, and staff will be paid money owed to them under their contractual rights. It is not known how many are affected, but at least ten are known to unions.
Guidelines on school closure from the Association of Teachers and Lecturers (ATL) say that private school staff are entitled to be paid notice in accordance with their contract, and the school is bound by statutory redundancy provisions.
One parent told Schools Week that the family must now pay for private tutors.
Croydon council, which is responsible for ensuring all children in the area have a school place, said that it would find places for affected pupils if required.
Averre-Beeson, director of HLF Schools which runs the private school, said he could not provide further comment other than what was included in his letters to parents.
The drop in pupil numbers from 121 to 84 had had a "significant impact on the school's financial sustainability"
The first said that the drop in pupil numbers from 121 to 84 had had a "significant impact on the school's financial sustainability".
This was exacerbated by the fees outstanding for this term.
However, in another letter sent on Monday, Averre-Beeson said that he had agreed to transfer the school's lease "at no cost" to parents who wanted to set up a new trust to "explore the possibility of keeping the school open".
Schools Week understands parents are looking to secure funding before forming their own trust.
Sister Bernadette Davey, headteacher of the Virgo Fidelis convent senior school, previously told Schools Week that its junior school (now renamed Henriette Le Forestier) had been leased on a 25-year deal to Averre-Beeson.
She did not respond to a request for comment this week.
Who is Trevor Averre-Beeson?
Trevor Averre-Beeson made his name as the superhead that turned around Islington Green secondary, the school that Tony Blair rejected for his children.
But the reason for his departure from the north London school in 2006 is unclear – although it has been reported that he quit amid the fallout of plans to convert it into an academy.
He returned to the spotlight when he was parachuted in as super head of the Salisbury School in Enfield, north London, where the American for-profit firm Edison Schools had a £1 million contract to run the school over three years.
Results rose from 22 per cent of pupils achieving five A*-C grades including English and maths when the company took over in 2007, to 27 per cent in the summer of 2009 – below the 30 per cent government floor.
Enfield council did not renew the contract, and the school (then called Turin Grove) became an academy. But Averre-Beeson, who was employed at the school for two years, said the contract was a success as only 13 per cent of pupils had achieved A*-C grades before the company took over.
He then co-founded the school improvement firm, Lilac Sky Schools, which went on to sponsor Lilac Sky Schools Academy Trust (LSSAT).
In July last year the government stripped the trust of its nine schools. Official reasons have not been released, but it followed poor performance at some schools and finance concerns.
The regional schools commissioner for south-east England and south London, Dominic Herrington, raised concerns about LSSAT's sponsor – Lilac Sky Schools, the for-profit company owned by Averre-Besson – providing services totalling more than £800,000 to the trust. This was stopped in 2015.
An Education Funding Agency finance review of the trust is believed to be ongoing, but Averre-Beeson claims that it has found no instances of financial malpractice.
The disappearing Lilac Sky
Lilac Sky Schools Academy Trust (LSSAT) has yet to be wound up, according to Companies House, but it is no longer running any schools. The trust's website has closed.
References to the trust or to Lilac Sky Schools have been erased from the public domain.
Lilac Sky Schools was renamed HLF Schools on August 31. The company's website has also been rebranded to Education 101.
Lilac Sky Education, another school improvement firm that previously provided services to LSSAT, has been renamed Corporate AB Ltd. Averre-Beeson told Schools Week last year the companies had been renamed "to avoid any additional confusion" with LSSAT.
Schools Week has also learnt that proposals for a new Jewish free school in north London, which Lilac Sky Schools supported, have been scrapped.
Meanwhile, the financial fallout from the collapsed trust continues.
Patrick Leeson, corporate director of education and young people's service at Kent County Council, said during a council meeting in September last year that the fallout had been "incredibly disruptive".
Revised accounts for 2015 show LSSAT increased the amount it topsliced from its schools' budget (up to 7 per cent) after running up a £666,000 deficit.
Schools Week has previously reported that Averre-Beeson disputed details in the revised accounts, which he claimed were released by the trust following government intervention, to "embarrass him".
But Leeson said this percentage of the schools' budgets was "not tenable" and that schools were now facing "financial difficulty as a result. That is outrageous".
Parents also faced a financial penalty as they have had to buy new uniforms at some of the now rebrokered schools.