An academy sponsor's uniform supplier is charging nearly three times the price for blazers in its grammar school than in its non-selective schools, while a Schools Week investigation has also discovered one school selling branded 'drama socks' for nearly £5 a pair.
Government guidance urges all schools not to use exclusive suppliers for school uniform as it can drive up prices for parents.
But schools appear to be flouting these rules. Some academy chains insist numerous items of uniform carry their logo – which parents said prevents them from buying cheaper alternatives in supermarkets.
Now the government has been urged to honour its pledge to introduce new school uniform rules to ensure parents get a fair deal.
In November 2015, the Treasury promised to put the "best practice guidance" onto a statutory footing to "ensure that effective competition is used to drive better value for money".
Parents are still waiting. Sarah Jones, Labour MP for Croydon Central, has written to academies minister Lord Agnew this month demanding the pledge is honoured.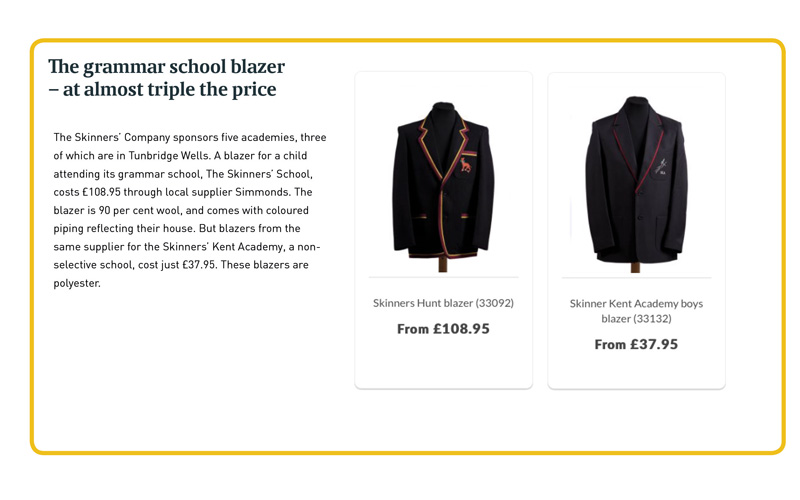 She said it was "mind-boggling" that the government hadn't followed through on the commitment, "which requires no additional government spending nor primary legislation".
The existing Department for Education (DfE) guidance from 2013 advises school governing bodies to prioritise value for money for parents and avoid exclusive single supplier contracts unless regular tendering competitions are run by the school.
The Competition and Markets Authority also wrote to heads in October 2015 to warn against using exclusive suppliers, stating it had pushed up costs by as much as £10 per item.
But Schools Week spoke to parents of children at primary schools with one uniform supplier, the online company School Trends.
As revealed by this newspaper last month, the company missed its deadline delivery for some orders this summer – leaving pupils without uniforms for the start of term.
St John's CE Primary School in Kent requires that school polo shirts, sweatshirts, cardigans, jackets and house colour PE t-shirts can only be bought from School Trends. The company has been its uniform supplier for over twenty years.
The only other option available to parents is a "monthly uniform shop", where second-hand uniform can be purchased at lower prices.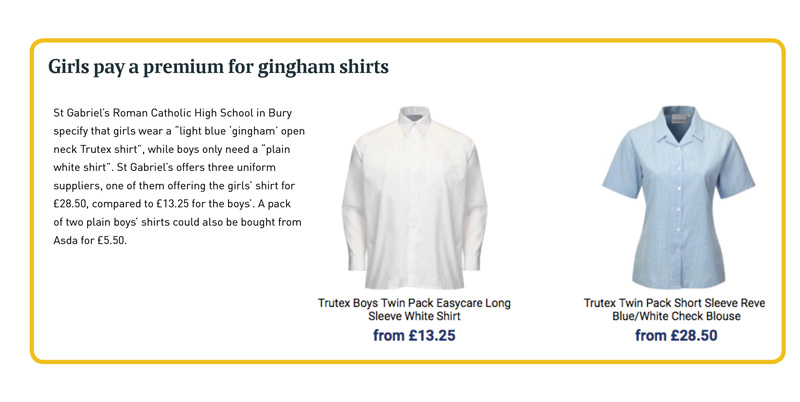 A parent who did not want to be named told Schools Week that uniform for Moss Lane School in Surrey has to be bought from School Trends. Its website suggests jumpers can only be bought from the company.
Headteacher Victoria Abbott told Schools Week that School Trends had been chosen as a supplier in 2012 before she joined the school, because of "competitive pricing and good quality". No tendering process was carried out, she said, but added they are "very open with parents that they don't have to use that supplier, I'm quite flexible."
Stowmarket High School in Suffolk, requires pupils to wear several items embroidered with the school logo including a "stitch-down pleat pencil skirt with waistband by Beau Brummel", with only one supplier listed on the school website.
St John's and Stowmarket refused to comment.
The Harris Federation specifies a single supplier on each of its schools' websites, with 29 Harris schools listing online company 'Brigade' as the only option for branded items. These include blazers, jumpers and PE kit, while some schools also require year 7 and 8 pupils to have a coat and school bag displaying their logo.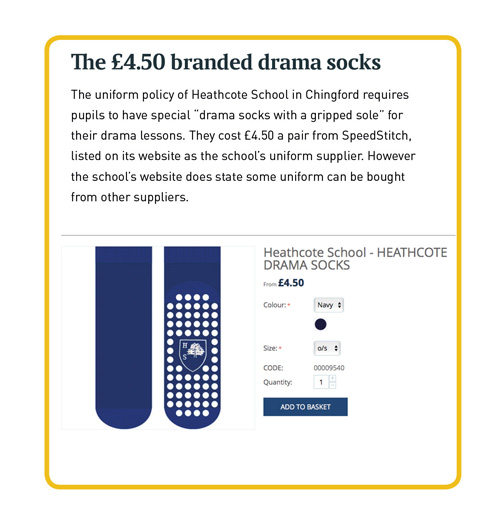 A Harris spokesperson said "there is always a competitive tender to select uniform suppliers", and they are chosen on value for money and durability.
Exclusive suppliers are not the only inequality. The Skinners' Company sponsors five schools. Pupils attending the grammar, The Skinners' School, are required to purchase wool blazers costing £108.95 and with coloured piping reflecting their house. At the non-selective Skinners' Kent Academy, blazers are made from polyester and are £37.95.
Former teacher and education consultant Debra Kidd tweeted last month that it cost £300 to for her youngest child's secondary school uniform, at least twice the cost of what he had worn at primary school.
She blamed this on the "branding and insistence on a limited number of suppliers that is making the difference".
Research by The Children's Society published last month found school uniform costs have increased by an average of £24 for secondary schools and £4 for primaries since 2015.
Parents spend an average of £340 per year on secondary school uniforms, increasing by £71 when schools have an exclusive supplier. At primary level, the average is £255, increasing by £77 when only one supplier is used.
A DfE spokesperson said school uniform costs "should not be a barrier for any pupil", and "schools should keep costs to a minimum".
The Treasury still plans to introduce its uniform rules, but only when "a suitable legislative opportunity arises".