The world's fastest accelerating vehicle took centre stage at Windmill Academy as a reward for pupils who won an inter-school science competition.
The Top Fuel Dragster from the Santa Pod raceway and some of the Santa Pod team taught the Northamptonshire pupils all about the science behind the car before they got the chance to sit in the racer and look at the engine and body close up.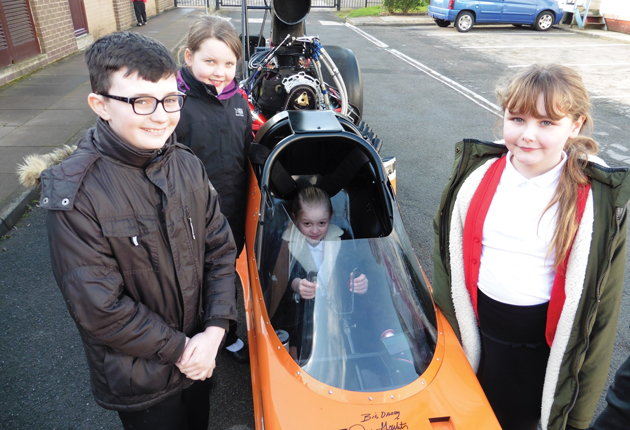 The winning pupils, all in year 5, came together from six academies in the Education Fellowship trust to celebrate their success in a special Balloon Racer Challenge.
A spokesperson for the trust said the young learners showed "superb science skills" during the challenge, including problem solving, application of science knowledge, team work and resilience.
Matt Coleman, principal of Windmill Academy, explained: "The competition was run as part of a two-year project funded by an ENTHUSE Partnership Award to raise engagement and attainment in science.
"It is providing wonderfully exciting opportunities for many pupils in the Education Fellowship's primary academies in Northamptonshire."
Windmill pupil Lucy Neville said: "We all had a great afternoon, I can't believe how fast the car could go – it gets up to 300mph in about four seconds and accelerates faster than a jet. It was just amazing. Thank you to everyone involved in making it happen."
Michelle Brett, assistant principal and science lead at Windmill, said: "The afternoon was absolutely wonderful. The Santa Pod team were so knowledgeable and it was great for the children to be able to see science in action in the real world.
"It's not very often you have a chance to get so close to a high performance vehicle like the Top Fuel Dragster. We hope the visit will inspire the children even further in their science studies."
The Santa Pod team left two dragster models with the school. The trust said they would be awarded to the two pupils who explain what they learned from the afternoon in the most creative and entertaining manner.
Santa Pod will then promote the winners' work on their website.
Main pic: Windmill Academy pupils welcome the world's fastest accelerating vehicle, the Top Fuel Dragster