A plan for toddlers' parties has won innovative pupils from Tyne and Wear £1,000 in seed funding to get their idea off the ground.
The group from Hebburn comprehensive, who call themselves Chapter Gangsters, pitched their idea of hosting parties for nursery children from their local area to a panel of business professionals.
The task was part of a programme put on by Sage, an enterprise software company, who teamed up with charity The Key, to help disadvantaged young people to develop their entrepreneurial potential.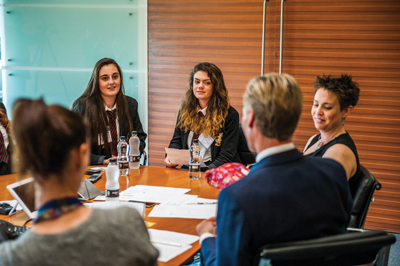 Rather than using a standard PowerPoint presentation, Chapter Gangsters "wrapped up" each slide in paper for the panel to unwrap as a "corporate pass-the-parcel".
The panel said the group's presentation style and its passionate delivery led it to award the team £1,000 to ensure the idea can come to fruition.
Claire Sharp, a teacher at Hebburn, says that the group was "incredibly happy" about their success with some waking up parents who work night shift to tell them the news.
Victoria Dunn, deputy chief executive at The Key, says it was evident that the pupils worked "incredibly hard" on planning their projects.
"We were really impressed with the amount of effort that went into developing their project pitches. It was clear to see that each of the young people had thoroughly developed their skills and confidence. To us it was a no-brainer that they were successful."
As part of a wider event on the day, 75 young people aged between 11 and 25 visited Sage's headquarters.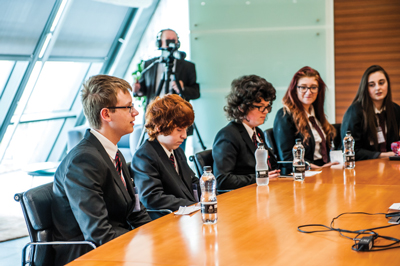 They met business leaders and received help to develop their own entrepreneurial ideas.
A series of careers speed-dating sessions were also held with Stephen Kelly, Sage's chief executive, and Brendan Flattery, president of Sage Europe, as well as other executives, to give the students the chance to find out how they got to "the top", what hurdles they faced and to seek any useful tips.
Flattery says: "We believe that entrepreneurs are the true heroes of the economy. Any support we can provide to people as early as possible in their lives to help ignite their entrepreneurial passion is very important."
Main Picture: From left: Rebecca, Lauren, Sian, Kristian, Kieron and Callum from Chapter Gangsters