Following a day watching an international fixture and interviewing the stars of the England rugby side, 13-year-old Mohammed Haris won the CBRE Young Rugby Reporter of the Year award.
The aspiring journalist from Abraham Moss Community School in Manchester competed against three other finalists at the RBS Six Nations England V Ireland match at Twickenham.
The year 7 pupil, alongside Ibrahim Shafig, Sylwek Milewski and Joe Hunter, attended the game at the end of February.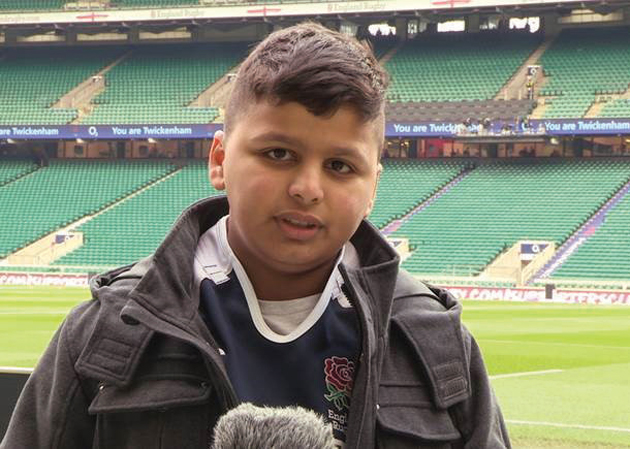 They began the day with a behind-the-scenes tour of the stadium and interviewed other young CBRE All Schools students, before watching the match from a corporate box.
After the game the finalists interviewed England rugby squad members Dylan Hartley, Jamie George, Jonathan Joseph and injured player Dave Attwood.
They asked how the match went, what their tactics were, how they worked together as a team and what their hopes were for the rest of the RBS Six Nations.
A spokesperson for CBRE, a property firm, said Mohammed won because of his "enthusiasm and dynamic approach".
He will now spend a day with a top journalist as well take back a £250 cash prize for his school's English department.
"It's been really exciting," he says. "There are no words that can describe it. I got to meet players, speak to them, get their autographs, and I even got a free goodie bag and a programme. It's been a dream come true."
The four finalists were selected from more than 400 schools, two from each age category between years 7 and 8, and 9 and 10, after submitting a short piece on film or print explaining how rugby has had an impact on their school and them personally.
Twelve-year-old Ibrahim Shafig, also from Abraham Moss Community School, who had never watched a live rugby match, says his favourite moment was the England win with a final score of 21-10.
Sylwek Milewski, 13, from Lyng Hall School in Coventry, says: "I've never experienced anything like this before. I enjoyed it a lot, watching the game, celebrating the tries, touring the stadium. We cheered and screamed. It was very special to me. I don't think it can get any better than this."
Joe Hunter, a year 9 pupil from St Edmunds Catholic School in Canterbury, said the day was "remarkable. I can't explain how much I have enjoyed it. It's taught me that to be a good team you've got to rely on each other. I'm very lucky to have been here."
Main pic: Winning reporter Mohammed Haris interviews England international Dave Attwood