New free schools will be allowed to open if their proposers can demonstrate a "social need" or "significant demand" from parents under new changes announced by the government which have sparked fears of a "free-for-all".
The Department for Education has released updated guidance on the application criteria for bids from sponsors, marking a significant departure from the programme's focus on addressing a shortage of school places.
The changes come months after Nick Timothy – then the director of the New Schools Network and now chief of staff to prime minister Theresa May – called for the introduction of a "social need" criteria to enable more free schools to open in segregated communities, and follow a pledge by David Cameron last year that 500 new free schools would open during this parliament.
Applicants previously had to demonstrate that there was a need for their new school, caused either by a general shortage of places or because of low standards in existing schools in an area.
But the new guidance says applications could be waved through if they demonstrate that they will address a "social issue" relevant to their location, address a need for "innovation" or "greater choice and diversity" in an area, or if they can show "significant" demand from parents.
It has been clear since free schools were established that it has not been about addressing a shortage of school places
Henry Stewart, from the Local Schools Network, warned of a "free-for-all" and described the change as "just another loophole", claiming that new schools needed to open where there was a demand for places.
"Too many free schools have been established where there is no need for places, while other areas which do need places can't get the schools they need," he told Schools Week. "If we've got limited resources, we need to be making sure they are targeted where they're most needed.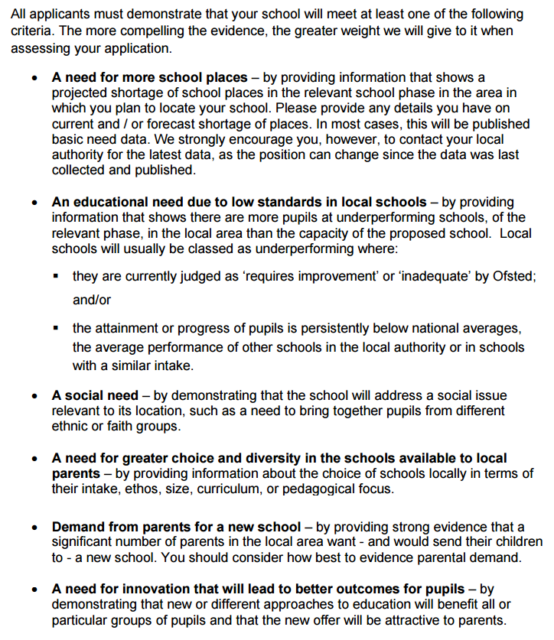 "What the government says and what it does are not aligned. It has been clear since free schools were established that it has not been about addressing a shortage of school places."
According to the government, one situation in which social need could be a factor is if there is a need to "bring pupils together from different ethnic or faith groups", but the document does not give further detail on how a new school would address this, or on other scenarios which might prompt it to sign off on such bids.
Bidders will be able to claim there is parental demand if they can demonstrate "strong evidence" that a "significant number of parents" want and would send their children to a new school, but the guidance does not define how the government would gauge this.
The other new criteria are similarly vague, with one requiring applicants to demonstrate that a "new or different approach to education" will "benefit pupils and be attractive to parents", and another opening up the system to bids from those who believe there is a need for greater choice, based on the "ethos, size, and curriculum" on offer.
The guidance states that applicants must meet "at least one" of the criteria in order to demonstrate that there is need or demand for a new school, which effectively makes it easier for schools to open in areas without a specific shortage of school places.
Sarah Pearson, interim director of the NSN said the changes underscored the government's commitment to "ensuring that the free schools programme offers a real opportunity for new providers – from teachers and schools to community groups and charities – to create the new schools that parents, pupils and local communities so sorely want and need".
"We have already seen record numbers of free school groups applying this year, and these changes will broaden the appeal of free schools even more," she said.
The new guidance will come into effect in September and will apply to wave 12 applications, which due by September 28.
A government spokesperson said: "All proposed free schools are required to meet strict conditions before opening, and no application is approved unless a clear need for the school is demonstrated."