The Department for Education is ditching its use of the "dated" word "expulsions" to describe permanent exclusions, after concerns were raised that it harked back to the era of corporal punishment.
However, the government will continue to refer to fixed-term exclusions as "suspensions", despite worries that the word "trivialises" the action.
Ministers switched to using the terms to describe the two different types of exclusions in the wake of Edward Timpson's landmark review in 2019, despite the fact the review did not recommend the language changes.
Education secretary Gavin Williamson used "expulsion" twice in his speech to the Confederation of School Trusts (CST) conference this month.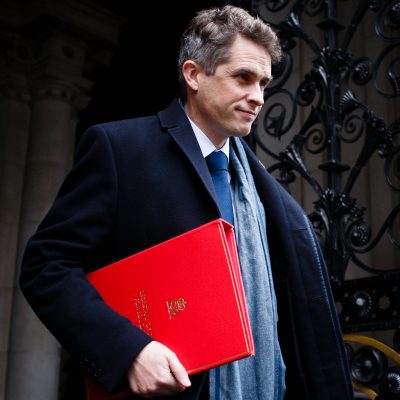 Williamson said the change in terminology was because "we need to make a differentiation between those children who are being suspended from school for a short period, as against those who are permanently excluded".
Schools minister Nick Gibb has also used the phrase in answers to parliamentary questions.
Charities expressed 'deep' concern
But the Council for Disabled Children (CDC) told children's minister Vicky Ford they were "deeply concerned" about the use of both "suspension" and "expulsions".
In a letter, also signed by Ambitious About Autism and Special Educational Consortium, the CDC said: "The word 'expulsion' conveys a more vigorous, or even aggressively physical, approach to removing children from schools and, for some, the language provokes a visceral reaction.
"The language is dated and evokes an era that pre-dates the abolition of corporal punishment in schools."
The letter also warned that it risked "undermining any constructive proposals" in the SEND review, due to report next month, and was "at odds" with prime minister Boris Johnson's messages on "levelling up". It continued that the term "suspension" seemed to "trivialise the action of exclusion and suggests that this is not really an exclusion".
"Yet, we know…that a number of fixed-term exclusions can combine to have a detrimental impact on outcomes for disabled pupils."
Ministers revert to 'permanent exclusions' but keep 'suspension'
Children's minister Vicky Ford said yesterday that the language was "not a change in policy", but after listening to worries raised by the sector "the department has concluded it will reinstate 'permanent exclusion' when referring to a permanent exclusion while continuing to use 'suspension' when referring to fixed-term exclusion".
In a letter sent to the charities, seen by Schools Week, she added: "I have made it a priority to protect and support children and young people with SEND throughout the pandemic and to put them at the heart of our wider recovery work."

Writing for Schools Week, Philippa Stobbs, assistant director at CDC, said her organisation was "delighted" at the change. She added: "There are important messages here for recovery. These messages are all the more important for particular groups of pupils who are disproportionately excluded.
"The foundations are laid for a well-informed recovery. It will work better with less punitive language supporting it."
It also marks a win for Timpson who last week told Schools Week he was "not keen" on using the word "expulsion", as it sounded "too definitive, as if you are being removed from education all together".
In response to the review in 2019, the government said it would "return to referring to fixed-term exclusion as 'suspension' and permanent exclusion as 'expulsion', to prevent confusion and conflation between the two terms".
But Timpson said his review was not asked to look at language, and he was "surprised" to see the comment. His review only recommended renaming pupil referral units.