Two scholarships are up for grabs for a team of students from Clyst Valley Community College in Exeter who were crowned winners of a national STEM competition.
In the final of the Land Rover 4X4 in Schools Technology Challenge, the Cystalians, a team of 14 to 16-year-olds from Clyst Valley, competed against 25 other teams from across the UK.
The challenge involved team members designing and building a radio controlled 4-wheel drive that could negotiate a test track designed to emulate real life and what a full-scale 4×4 vehicle could do.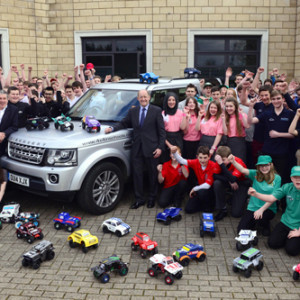 One member of the Cystalians team will be awarded an Arkwright scholarship, sponsored by Land Rover, to support their A-level studies.
A £1,000 scholarship to attend Harper Adams University in Shropshire is also on offer to one member from the winning team.
The recipients will be chosen closer to university choice time.
Cystalians team manager Zacc Tullett, 16, said: "The challenge has really shown us the career opportunities available in engineering and at least two of us are
now interested in pursuing engineering careers."
Main pic: Left to right: Alan Heslop from Jaguar Land Rover, The Cystalians: Matt Davison, aged 15, Jake Kendall-Tory, 14, Daisy Selley, 14, Willow Tatman, 15, Nathan Elliott, 16, Zacc Tullett, 16, and Jim Lyons from Harper Adams University