Schools minister Nick Gibb and officials from exams regulator Ofqual were quizzed this morning over plans to replace formal tests with teacher assessed grades this summer and proposals for future years.
Gibb was joined at the education select committee by interim chief regulator Simon Lebus and Ofqual's chair Ian Bauckham.
Here's what we learned.
1. Schools have 'flexibility' over use of evidence
The government announced last month that additional assessment materials provided by exam boards will not be mandatory, but schools can still use them if they wish, alongside other evidence such as coursework or mock exam results.
MPs asked this morning whether individual pupils would be allowed to request that they use the optional questions, even if the rest of their class is not sitting them.
Bauckham said that it would be easier for teachers to arrive at "consistent grading" if "broadly the same evidence is used", but said guidance for schools will "admit for exceptions of that".
"We are asking boards to make clear when they communicate with schools in guidance that there should be flexibility around the edges with pupils for whom it may be appropriate to use different portfolios of evidence that may include more in-class or other kinds of test to leave open the possibility of delivering a nice surprise."
2. Pupils can challenge evidence used
The government has said that schools will be expected to tell students the evidence on which their grades are to be based before the results are submitted to exam boards.
This is in order to "reduce the number of errors made and, in turn the volume of appeals".
Lebus said today that as a consequence, there would be an "opportunity for a student to say if they think that the evidence that has been used does not accurately reflect the best of their ability, for them to say 'actually I don't think that's fair, we should have used other evidence, I would have liked to have been tested'".
"I think that given that check happens at the end of the process, it's clearly likely that teachers are going to think carefully about students with different needs, and if there are different needs you would require an exceptional approach, they would probably try to make sure that was organised well in advance.
"The overall design of the system does provide for the fact that learners have a lot of different styles and different approaches and caters for teachers to be able to support that."
3. No plan to 'ration' grades or predetermine based on school type
Teachers have been told to factor in previous years' results when reaching their judgments, and MPs raised concerns this morning that this could lead to "grade suppression" for pupils in schools with historically lower results.
The government has said that external quality assurance checks could be triggered where grades are lower or higher than expected compared to previous years.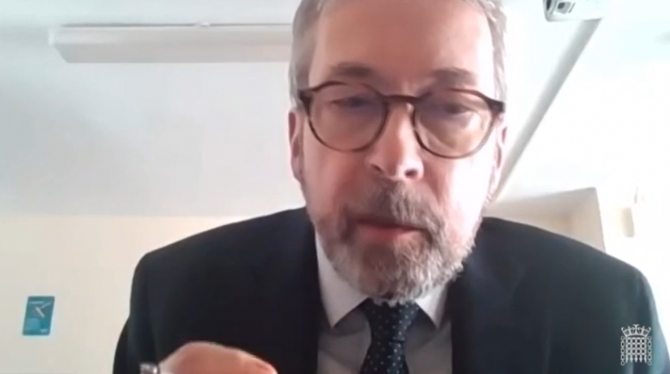 But Bauckham said there was "no intention to ration grades or predetermine grades by the kind of school or the area that the school is located in".
He said teachers would be asked to "have regard" of the prior record of the school.
But he added that "if students produce evidence that supports the grade that they are being awarded then if that school is selected for checking the grade will be upheld because this is an evidence based approach".
Lebus said there will be a requirement that the centre looks at performance over the "previous two years" and if it is "anomalously out of line that that is explained and rationalised".
4. Assessment process must not be 'major industry'
Committee chair Robert Halfon asked whether external assessors could go into schools to provide a "check and balance" service during the grading process to stop potential grade inflation.
But Gibb said there would be a "huge resource implication" in that suggestion, adding: "We don't want this to become a major industry.
"The focus of the time between now and June 18 [when teachers submit grades] should be on teaching and not going through a massive process of assessment with individuals travelling around the country going to schools. That is not the ideal solution to this problem."
Instead, there will be a sample and risk-based quality assurance process of grades, as well as checks on schools' internal processes.
5. Exam boards may highlight 'risk' if not enough external tasks used
In the first stage of external quality assurance, exam boards will review all schools' internal quality assurance processes.
Lebus said today that some examples of what may be deemed as "not satisfactory" might include situations where there's "not very much use of externally set tasks" or the sources of information used are "unusual".
This could then "highlight" whether there was a risk in a particular school, which might lead to them being looked at "in more detail".
6. Minimum number of 'spot checks' to be decided
The external quality assurance process will also involve "spot checks" on some schools, but Ofqual is yet to decide how many schools will be subject to them.
Lebus said it will be the exam boards' responsibility to administer "a system of spot checks and random sampling as well as more targeted checks".
"We haven't asked for a minimum at this stage because we are still consulting. There's a technical consultation going on and we will be completing the guidelines by the end of this month."
7. 'Adaptations may be needed in 2022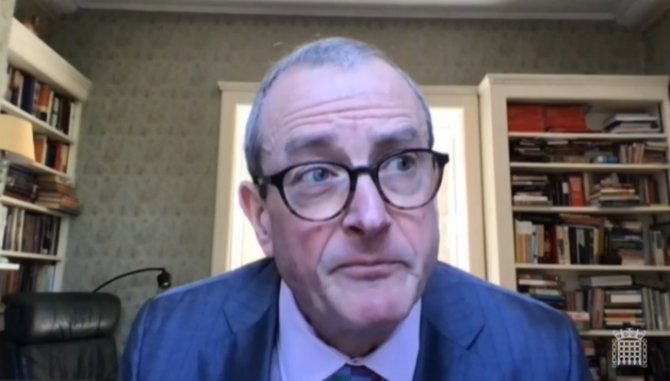 The disruption to education as a result of Covid has also prompted concerns about the cohort of pupils due to sit exams next year, and it was revealed today that the government is considering similar mitigations that were going to be in place this year had exams gone ahead.
Lebus said that the "thinking at the moment is about adaptations along the line that had been originally contemplated for this year when exams were still to go ahead".
The government proposed last year that grading for exams in 2021 would be as generous as it was in 2020, and that pupils would get advance notice of topics in certain subjects and be allowed to use exam aids.
Those plans were abandoned in January when exams were cancelled following partial school closures.
8. Gibb rejects calls for GCSEs to go
The impact of the pandemic and cancellation of exams two years running has prompted a debate about whether GCSEs are still needed.
But Gibb today resisted calls to scrap them, stating exams were the "fairest way of judging" student attainment.
"We want to get back to exams as soon as possible," he added.
Gibb said GCSEs were an "excellent" way of making sure students cover a broad and balanced curriculum.
"Those GCSE specifications are well structured. They are a gold standard qualification in Britain and internationally and I disagree wholeheartedly with those that say that GCSEs have had their day."
9. Decision 'in due course' over progress 8 for pupils who missed SATs
Alongside GCSEs and A-levels, SATs for primary school pupils have also been scrapped in 2020 and 2021. It means current year 7s and those due to start secondary school in September have not sat the tests.
However, this has prompted questions about the impact it will have on performance measures, specifically progress 8, for which key stage 2 results act as a baseline.
Gibb said decisions would be made "in due course" about the "consequences for progress 8" for those who have not completed SATs.