The Everyone's Invited campaign, which urges young sexual abuse survivors to share their stories on its website has stopped publishing the names of schools over fears they are taking a "disproportionate amount of blame".
As a school, we want to be part of this conversation and empower all young people to be able to come forward
The number of testimonies on Everyone's Invited, a website and Instagram account aiming to eradicate rape culture, has soared following the death of Sarah Everard this month.
Her disappearance while walking home at 9pm in Clapham, south London, sparked a renewed conversation about violence against women and their safety.
The fresh sex abuse allegations have led to national media coverage, focusing mostly on prestigious private schools. One headline, for instance, read: "Dulwich College is a 'breeding ground for sexual predators', former pupil claims".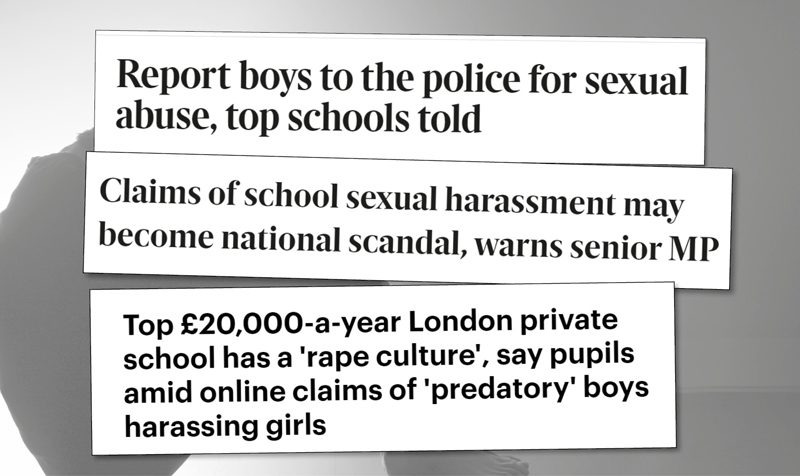 An analysis by Schools Week found that about 50 state schools are mentioned among the more than 5,000 testimonies.
Approximately eight times more private schools have been named in the allegations, ranging from reports of rapes to "slut shaming".
But the campaign has this week halted publishing the names of institutions amid concerns about "implicating certain schools" that are taking a "disproportionate amount of blame".
Headteachers of state schools implicated in the sex abuse reports have told Schools Week they are unable to investigate the anonymous claims.
Ofsted has also said it will not look into individual allegations. But the Department for Education has vowed to strengthen guidance around the issues.
Hard to take specific action on anonymous claims, say heads
Bradley Stoke Community School, part of the Olympus Academy Trust, was named in an account of a 14-year-old being groomed by an older boy who was "emotionally abusive and manipulative".
The now 19-year-old said they were pressured into sending nude photos and was "slut shamed" when people in the school later found out.
The testimony adds: "Schools need to be much more helpful with this. Their strategies are always 'don't send nudes, it's illegal', which is correct, but they should also state we won't be in trouble if we report grooming and harassment instances."
Dave Baker, the trust's chief executive, told Schools Week it was "tragic" the person didn't feel able to come forward as the school has a "really strong culture" around welfare.
Ofsted rated the school 'outstanding' in 2018 for personal development, behaviour and welfare, adding that "pupils are tolerant, respectful and appreciative of differences".
Baker said it would be "really hard" to do anything with the specific case as it was anonymous, but he added: "Obviously, if a former student wanted to share thoughts about what the school could have done differently, we'd want to hear, of course we would."
Twyford Church of England High School, in west London, is named by a year 11 who said she got "particularly drunk" with a friend and kissed two boys. But then one put his fingers up her dress and assaulted her.
"Two years after this I still had disgusting boys from his school walking over to me filming me and asking me about it," she wrote.
Dame Alice Hudson, executive headteacher of the school, said the incident was not reported to the school. The post appears to imply the boys mentioned "were from another school".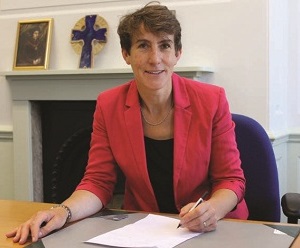 Many of the posts refer to incidents that happened outside of school grounds, and it is not always clear if the victim or perpetrator attended the named school.
Hudson added it was "good that the issue of sexual misconduct is elevated", but "the website does not enable schools to take specific action and in this sense it is not especially helpful".
Richard Langton, headmaster at Queen Mary's Grammar School, said allegations being anonymous and not specifying any details "make it very difficult to substantiate any events and follow them up". He added: "The school is therefore in a difficult position by being named on there."
The school, in Walsall, is named by a girl alleging she was raped by her boyfriend.
Both heads said if they had been made aware of the cases they would have fully investigated.
'Schools want to be part of the conversation'
But Charlie Cahill, deputy head at Orleans Park in Twickenham – also named on the website – said the anonymous posts are "playing an important role in ensuring that this issue is discussed both inside and outside of schools".
"As a school, we want to be part of this conversation and empower all young people to be able to come forward and report all incidents of sexual violence, harassment and misogyny."
West London Free School is named six times on the website. One of the testimonies described how a boy would deliberately drop pens and look up a girl's skirt in every lesson they had together. The school did not respond to requests for comment.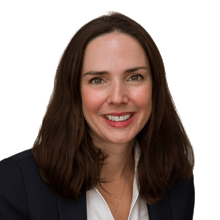 Helen Tucker, head of the independent schools team at Stone King, said "there is insufficient evidence" in most testimonies for a school to investigate.
But she said schools should consider whether pupils and alumni know where to go to report concerns and how they monitor whether pupils feel safe.
Tucker added, more generally, that schools may also want to reflect on what is taught in the curriculum on issues such as healthy relationships and consent.
Schools Week found over 400 testimonies in which private schools were named. Latymer Upper School, one of the most cited schools, has reported the allegations to the local authority and the police.
Barnaby Lenon, chair of the Independent Schools Council, said the accounts on the websites were "truly shocking" and encouraged anyone affected to report it so that "steps can be taken to address the issue".
Campaign concerned about 'implicating certain schools'
But on Tuesday, Everyone's Invited halted publishing the names of schools alongside the testimonies. They were concerned about "implicating certain schools" in testimonies that are "not wholly representative, but rather a result of who was seeing and interacting with the Instagram page".
Everyone's Invited said this could lead to a "disproportionate amount of blame that does not reflect reality".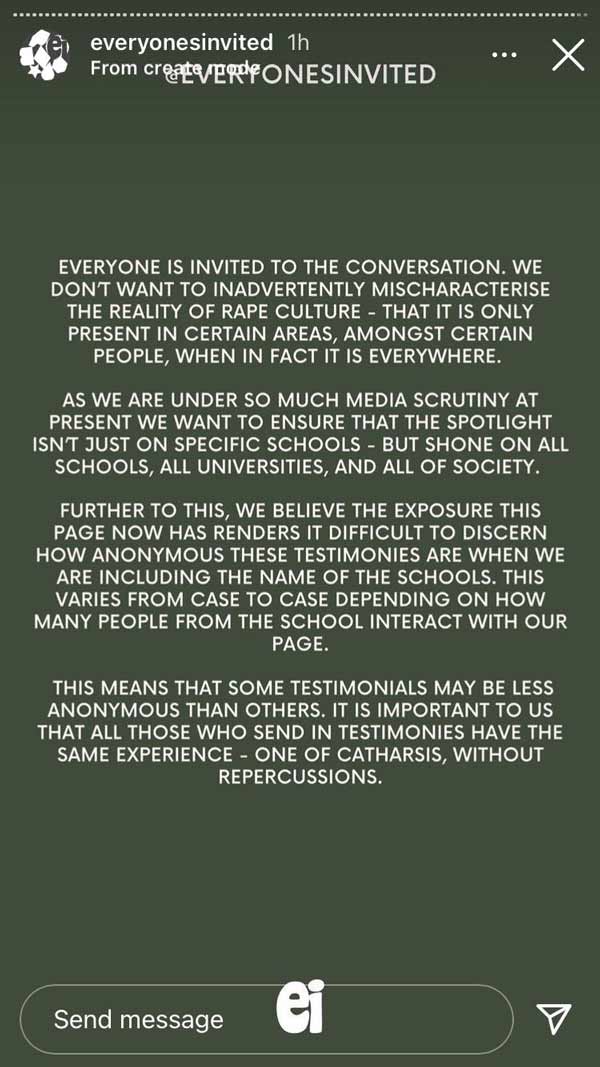 The statement posted on the campaign's 32,000-follower Instagram page added that they want to make sure the spotlight is shone on all schools, alongside the whole of society. Naming schools could also lead to victims being identified.
Everyone's Invited will still collect school names, for "data collection purposes", and testimonies published before Tuesday won't have names taken off.
EI did not respond to Schools Week's request for comment.
But the site's founder, 22-year-old Soma Sara, told the BBC this week: "If we start pointing fingers at certain demographics, or singling out individuals or institutions, we risk making these cases seem like anomalies… when really this problem is pervasive, it exists everywhere."
A report by the National Education Union and UK Feminista in 2017 found that 37 per cent of girls at mixed-sex schools have been sexually harassed while at school.
Soma told ITV they have "had huge amounts of people messaging us saying how incredible and important it was for them to be able to share this trauma and normalise speaking about rape and rape culture and shedding light and awareness on it".
DfE proposing new 'low-level' harm guidance
The Department for Education said its consultation on updating its Keeping Children Safe in Education has recently closed.
This includes changes to "further strengthen guidance for schools to protect children from peer-on-peer sexual violence and sexual harassment".
Previous guidance does not give advice on how to handle concerns about staff that do not meet the "harm" threshold. So they are considering bringing in advice around "low-level" concerns, where an allegation doesn't quite meet the level for an investigation. But repeated instances of such issues "may trigger greater concern and warrant more detailed enquiries of action".
The revised Keeping Children Safe guidance is due to come into force in September, the DfE said.
Separate statutory guidance on relationships and sex education in schools states that schools should make clear sexual violence and sexual harassment "are not acceptable, will never be tolerated and are not an inevitable part of growing up".
Rosamund McNeil, the National Education Union's assistant general secretary, told the Guardian that while the guidance is a movement in the right direction, further investment is needed to integrate the issue into the curriculum as a whole.
Ofsted won't investigate individual allegations
Ofsted was challenged over the findings on private schools by Robert Halfon at an education select committee this week.
The Conservative MP asked Victor Shafiee, Ofsted's deputy director of unregistered and independent schools, whether the inspectorate should inspect all private and public schools.
Currently, Ofsted inspects 1,100 out of 2,350 independent schools in England at the request of the DfE. The rest are inspected by the Independent Schools Inspectorate.
Shafiee told MPs that Ofsted "stands ready" to support the government "in any way that we can do" to strengthen safeguarding across the independent school sector.
Ofsted told Schools Week the allegations were "deeply troubling", but said it does not investigate individual allegations.
A decision to inspect based on safeguarding concerns would depend on the individual circumstances of the school and the intelligence they hold, Ofsted added.
The DfE said it could instruct Ofsted to inspect a school that is usually inspected by the ISI, although it is rare to do so.
A government spokesperson added "any abuse toward a child, whatever form it takes, is unacceptable. School should be a place where all children feel safe and are protected from harm. Our statutory safeguarding guidance sets out that all staff should have an awareness of safeguarding issues that could put children at risk."
If you've been affected by any of the issues raised in this article please take a look at Everyone's Invited 'Find Help' page.