Almost two in five MPs serving in top government positions were privately educated, despite just seven per cent of people nationally attending independent schools, a new report has found.
The Social Mobility Commission and Sutton Trust have called for changes to school admissions and an opening-up of private schools after their Elitist Britain 2019 report found those with a private education were heavily over-represented in the worlds of politics, business, the media and the civil service.
According to today's report, 39 per cent of members of the Conservative government's cabinet were privately-educated, compared with just nine per cent of Labour's shadow cabinet.
Overall, 29 per cent of MPs were privately educated – four times more than across the general population.
More than half of members of the House of Lords, Foreign and Commonwealth Office diplomats and civil service permanent secretaries are also private school alumni. Nearly two thirds of senior judges went to private school.
In the media, 43 per cent of the 100 most influential news editors and broadcasters went to fee-paying schools.
Angela Rayner, Labour's shadow education secretary, said: "For too long our top professions have been a closed club, dominated by a wealthy and privileged elite who attended the same private schools.
"The old boys' network and the old school tie still hold back talented and hard-working people from less privileged backgrounds."
Make admissions fairer to improve diversity
The Sutton Trust and Social Mobility Commission have put forward several recommendations to improve social diversity in the education and employment sectors.
These included a fairer admissions process in comprehensive and grammar schools, as well as opening up private schools, in order to tackle social segregation.
Universities were encouraged to work with schools facing significant disadvantages, reduce grade offers and recognise the different circumstances faced by applicants. Better careers advice for students is also needed, the report states.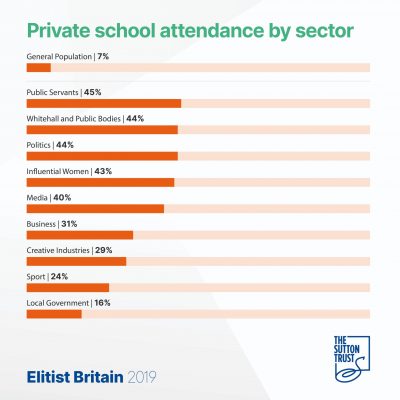 Sir Peter Lampl, founder and executive chair of the Sutton Trust and chair of the Education Endowment Foundation, said Britain was an "increasingly divided society", where social mobility for the less privileged remains low.
Dame Martina Milburn, chair of the Social Mobility Commission, said the power gap had to be closed so that "the top can relate to and represent ordinary people".
Milburn faced tough questions from the education select committee last week, when the diversity of her own commission was criticised and she was urged to take more action, rather than just conducting research.
Geoff Barton, general secretary of the Association of School and College Leaders, said state schools "work tirelessly to make social justice a reality, but the dice are loaded against them in a society where both privilege and disadvantage are perpetuated from one generation to the next".
Russell Hobby, chief executive of charity Teach First, which recruits elite graduates into the profession, said the next prime minister "must put a fair education for all at the heart of their vision, investing in schools and teachers to unlock the potential of all children, not just some".