Leading universities can better help the underprivileged by widening access and outreach schemes, argues Oxford's Dr Samin Khan
In an interview on BBC Radio 4's Today programme last year, Oxford's vice-chancellor Louise Richardson was asked why her university had not yet sponsored or opened a school.
"We're very good at running a university," she explained – Oxford had just been named the world's leading institution by Times Higher Education – "but the university has no experience of running schools."
It would be a distraction, she said, from the university's core functions: degree-level teaching and world-class research, not to mention an insult to the headteachers and education leaders who have dedicated their lives to the very specific demands of running a school.
Instead, the university would continue to demonstrate its commitment to social mobility through education by working with schools and teachers across the country in a host of innovative ways, to make sure that the young people who come to study here represent the full breadth of British society.
The arguments in favour of universities sticking to what they know are well-worn but worth repeating. A new University of Oxford School in our small city would be fantastic for the pupils who went there, but would it be fair on Oxford's other secondary or primary schools, or the pupils who missed out on the opportunity to attend? Would it skew the local market?
The arguments in favour of universities sticking to what they know are well-worn but worth repeating
We prefer to spread our resources so that we can reach as many young people as possible, spending our money on widening access and participation programmes that can benefit students up and down the country – as a truly national and global institution should.
So if not sponsoring schools, what should elite universities be doing instead? The following are just a few examples of how Oxford is engaging.
In 2015, with Christ Church College, the university entered a partnership with the charity IntoUniversity to set up an education centre in Blackbird Leys, an area of Oxford with low progression to higher education. Three full-time staff and a team of volunteers, many from the university, provide after-school primary and secondary academic support sessions and mentoring. Since the centre opened, 75 per cent of school leavers who attended the centre have gone on to university – far higher than the national average.
Sustained contact programmes from Pembroke, Wadham and Corpus Christi colleges, such as OxNet in the north-west, work with pupils, teachers, families and the local communities, bringing Oxford's research into the classroom. They focus both on regional mobility and on encouraging young people to make successful applications to competitive universities across the UK. The Office for Fair Access in its latest annual report has recognised these projects as good practice for the sector to follow.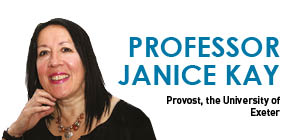 Each of our colleges is linked to a number of local authority areas, meaning that every school in the country has a first point of contact at Oxford. For example, one of those colleges, St Peter's, has just launched a new access initiative involving nine state secondary schools across England, providing professional development for teachers.
As a former state-school teacher, my favourite programme is the Inspirational Teacher Awards, which recognise state school teachers who go above and beyond to support pupils to gain a place at the University – especially those who might not have initially believed they were Oxford material.
There's also our UNIQ summer schools, which have given thousands of year 12 state pupils the chance to try a subject at Oxford. Next year we will spend over £7 million on access and outreach work to bring more underrepresented students not only to Oxford but to many other selective universities.
Disappointingly, the Sutton Trust in 2016 reported that 43 per cent of state school teachers would not recommend that their most able pupils apply to Oxford or Cambridge. As a former teacher, I want to change that. And we'll do it by working with schools, pupils and teachers right across the country – not just one Oxford-branded school in our own back yard.
Dr Samina Khan is director of undergraduate admissions and outreach at the University of Oxford