Parents consider education to be the third most important issue in the general election campaign and say it will influence their vote.
A new poll of more than 1,000 parents conducted by YouGov on behalf of the National Union of Teachers shows that 43 per cent consider education and school funding to be "a key issue" in deciding their vote. Only health (50 per cent) and Brexit (51 per cent) outranked it.
Of those who said they prioritised education, 83 per cent said they were "more likely to vote for a candidate who will support tackling education and school funding".
The YouGov/NUT poll reflects recent findings from polling company, Ipsos Mori, which reported on Wednesday that education was the third most important issue for all voters after the NHS and Brexit.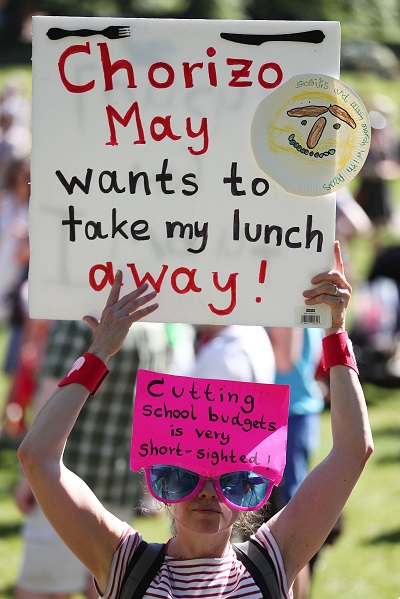 The debate over education has risen in prominence in just a few weeks. In April, education did not make it into the top six issues in a poll by Com Res.
This has been fuelled in-part by several prominent policy announcements from Labour and the Conservatives.
For example, political parties have attacked the Conservatives over their plan to cut universal free lunches and replace them with free breakfasts, which Schools Week revealed was based calculations of just 7p per meal.
The Liberal Democrats even emblazoned the figure on large posters, unveiled by the former deputy prime minister Nick Clegg.
The election has also amplified existing concerns among parents about school funding, with the work of grassroots campaign groups like Fair Funding for All Schools, Save our Schools and the teaching unions bringing the matter to the wider public's attention.
The School Cuts website has also been redesigned by the NUT and ATL to allow members of the public to contact their local candidates for their response to the school funding crises.
The website predicts how much an area will lose in funding through unfunded pressures and rising costs over the coming years, and compares shows how much each school could lose under Conservative, Labour and Liberal Democrat spending plans.
Kevin Courtney, the general secretary of the National Union of Teachers, says politicians of all parties "should be aware that parents are saying school funding will influence their vote".
"Education cuts never heal and we as a country can do better," he said. "At this general election it is time more than ever to vote for education."
Save