The Department for Education has removed a "highly misleading" letter that had been sent to schools for them to use when explaining the mass Covid testing process to parents.
Since Monday, schools have been receiving swab collection kits and necessary PPE to carry out lateral flow testing for staff and pupils.
The DfE provided a template letter for schools to use to set out the process for pupils' parents and guardian which stated the tests are accurate as they have a 99.68 per cent specificity rating.
George Constantinides, Professor of Digital Computation at Imperial College London, said specificity shows how accurate the test is in identifying those without Covid – rather than positive cases – and was therefore a "highly misleading" figure.
In contrast, the test's sensitivity – accuracy in identifying positive cases – is around 76.8 per cent, according to validation studies conducted by Oxford University and Public Health England
However further studies have suggested the tests are less accurate.
"The idea that you can cite a specificity as how accurate something is in identifying a case is frankly nonsense it doesn't make any sense whatsoever from a scientific perspective", Constantinides added.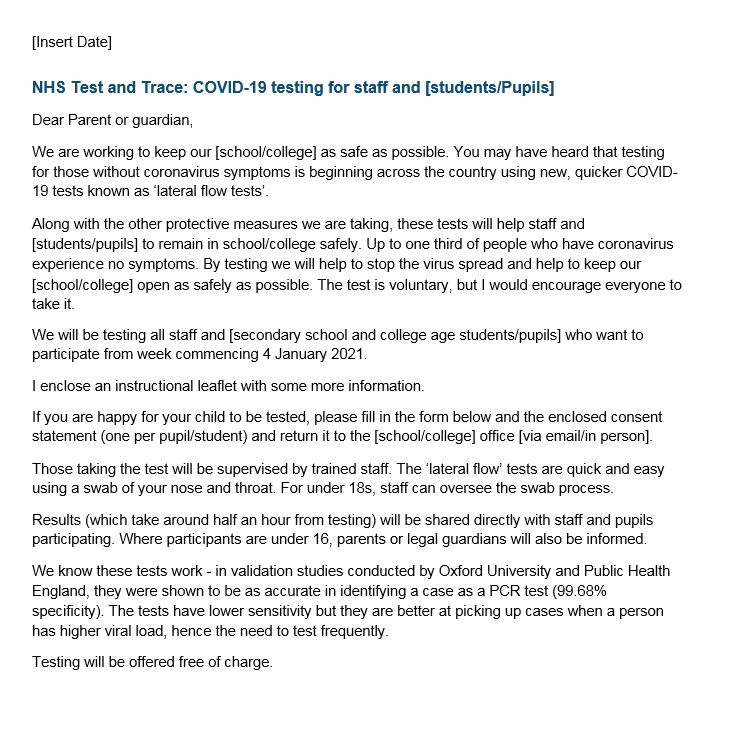 Elsewhere Professor Jon Deeks, a biostatistician at the University of Birmingham, voiced his concern on Twitter over the "inability of Test-and-Trace to explain the diagnostic accuracy of the lateral flow test".
He added: "It tells you the proportion of those without COVID who correctly get negative results. It doesn't tell you how [good] the test is at identifying cases."
The DfE did not respond to requests for comment, but the template was later removed from online.
Elsewhere confusion remains over whether it's mandatory for secondary schools to roll-out mass testing after a DfE director contradicted the education secretary during an online webinar.
On Monday, Sarah Maclean, a DfE director working on the testing regime told schools "it's not mandatory" to take part.
She said: "There are a couple of questions about 'do schools and colleges have to offer testing' and the answer from the DfE is no it's not mandatory.
"However, we do expect that most schools and colleges would want to."
The comments were made during an online mass testing training webinar.
However, Gavin Williamson told the House of Commons on December 30 the testing regime had moved from "being optional and an offer to schools to being something we require schools to do" – doubling down on the stance during a Radio 4 appearance the following day.
The DfE has not responded to requests by Schools Week to clarify if testing is mandatory or not.