England will not take part in a major international survey that ranks countries based on their teacher working conditions – with ministers saying it will help to reduce workload.
The Department for Education has confirmed it will not take part in the 2024 Teaching and Learning International Survey (TALIS).
Nearly 50 countries took part in the last survey, two years ago, which revealed that despite a huge government push to reduce workload – teachers in England were actually working more hours.
Now more than ever, we need to understand the impact the global emergency has had on teaching and learning and what lessons we might learn
The DfE told Schools Week the move was to "reduce the considerable workload burden of data collection" on schools.
However, in a letter to schools minister Nick Gibb, the five education trade unions have called for a rethink – saying participation isn't "particularly time consuming or burdensome".
The unions' letter stated: "England's poor performance against OECD countries is no reason to withdraw from TALIS. On the contrary we believe it makes our participation more vital."
As well as the main 2024 TALIS, the DfE will also pull out of the "mini" 2022 TALIS – which will focus on countries' responses to coronavirus – and optional surveys in 2024. It's since been confirmed the 2022 TALIS will no longer go ahead.
But unions have told Gibb the "voice of teachers and school leaders has never been more important as we seek to rebuild and recover from the pandemic".
"Education will play a vital role in our national and global recovery and the comparative experience of educators across the OECD jurisdictions, gleaned through TALIS, provides insights and opportunities for learning that no other study provides."
TALIS randomly samples 200 schools per country, and then selects one school leader and randomly samples 20 teachers in each sampled school. Participation is normally voluntary.
The questionnaires are administered online or on paper and their completion requires between 45 and 60 minutes, the OECD website states.
Unions claimed that "experience from our members does not lend support to the view that engagement with TALIS is particularly time consuming or burdensome and that the move to producing TALIS every six years will further mitigate any impacts in this respect".
The move has also surprised many in the sector.
Professor Toby Greany, who has worked on the international TIMMS rankings before, told Schools Week: "TALIS is an enormously valuable service that is used in lots of ways to inform policy and practice in England and elsewhere.
"As a country that has always championed international benchmarks, it seems a surprising decision."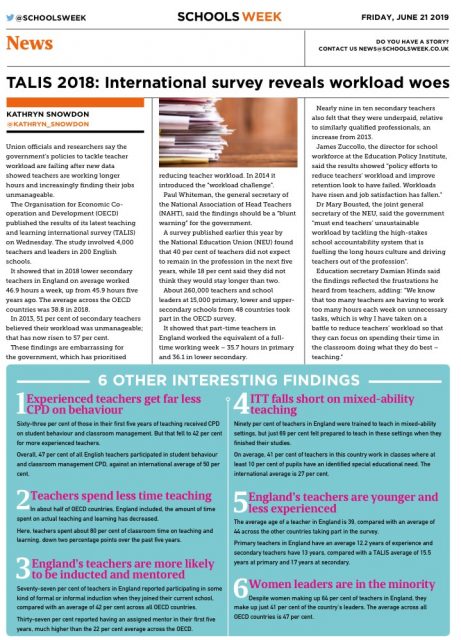 There also seems to be concerns within the department over the lag in time from the survey being taken and the results published – which is thought to be as long as two years for the 2018 survey.
It's also quite expensive. Countries that take part are expected to contribute to the international costs of the survey and also cover the national implementation costs.
The OECD website suggests the former costs around 200,000 euros (around £180,000). Meanwhile a tender by the government for RM to run the 2013 TALIS assessments in England was worth £300,000.
The DfE said they expected to still take part in the main PISA league tables – which have been pushed back from next year to 2022 because of the pandemic. Although they have already pulled out of the optional new creativity test.
A DfE spokesperson added: "We will continue to take part in a number of international studies in the coming years, as well as conducting our own national surveys to review performance and ensure that students and teachers can benefit from an excellent education system."
The 2018 TALIS was answered by more than 260,000 teachers and 15,000 school leaders across primary and secondary schools in 48 countries.
The nine main themes for the 2018 survey were: teachers' instructional practices, school leadership, teachers' professional practices, teacher education and initial preparation, teacher feedback and development, school climate, job satisfaction, teacher human resource issues and stakeholder relations, and teacher self-efficacy.
It's understood the department has pointed to a new major study it's set to launch on teaching conditions, as previously revealed by Schools Week, as mitigation for the TALIS drop-out.
But unions said TALIS provides education professionals the "opportunity to openly describe their professional experience in a way that they may not feel is possible in a national study conducted by the DfE".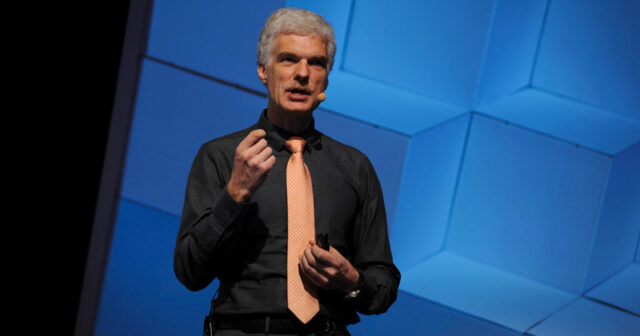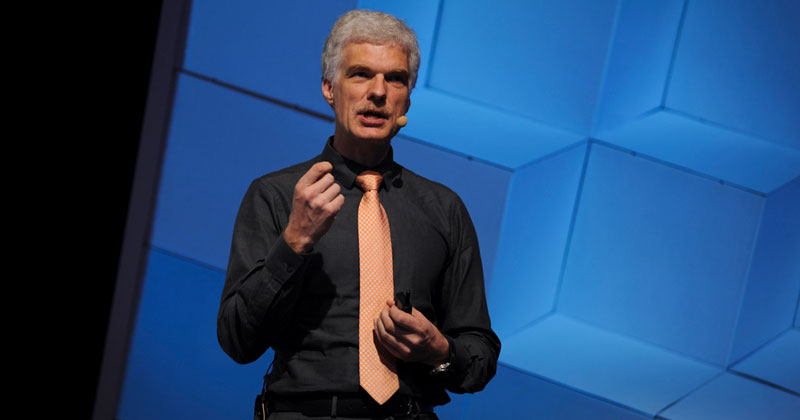 The letter added the "unique insights" gained through TALIS are "invaluable at this time of national and international emergency".
"Indeed, now more than ever, we need to understand the impact the global emergency has had on teaching and learning and what lessons we might learn going forward."
Andreas Schleicher (pictured above), director for education and skills at the Organisation for Economic Co-operation and Development (OECD) which oversees TALIS, told Schools Week that "being able to compare the findings from our TALIS survey across countries has helped teachers, school leaders and policy makers better understand the challenges facing the profession and learn from the best performing countries".
"Teachers are the foundation of a successful education system and the feedback we have had is that they believe the time invested taking part in the survey has been both worthwhile and useful."