The government has doubled down on its policy that positive Covid cases identified by tests in school don't need a follow-up lab test to confirm the result, insisting that pupils must still self-isolate even if the more reliable test contradicts the original outcome.
In an email to leaders today, seen by Schools Week, the Department for Education insisted that a negative polymerase chain reaction (PCR) test cannot override a positive result from a rapid-result lateral flow device (LFD) test taken by pupils in school.
As confirmed by the government yesterday, the opposite is the case for LFD tests taken by pupils at home. Downing Street clarified that pupils who received a positive result from an at-home test could return to the classroom if a subsequent PCR test comes back negative.
The different policies for tests taken at home and in school have led to confusion, but DfE explained today that it was taking the approach because tests conducted under supervision in school were less likely to be incorrect.
In its email to schools, the DfE said: "PCR testing is not advised if you have received a positive result from an LFD test at a school or college test site.
"If a parent was to do this and it returned a negative result, the policy remains that the pupil or student, their close contacts, and other members of their household must still self-isolate."
Secondary school pupils are expected to be tested three times on-site in the first fortnight back at school, switching to twice-weekly home testing after that.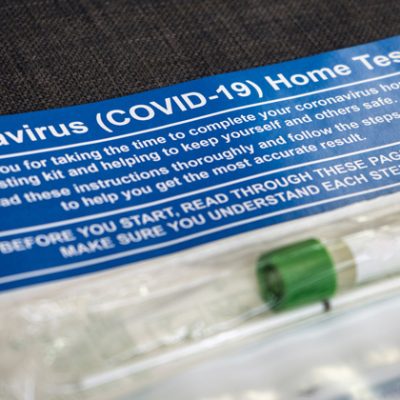 LFDs are being used both for in-school and at-home testing due to the speed in which they produce a result.
PCR tests are recognised as the "most reliable Covid-19 tests" by the government, but as they are processed in a laboratory it takes much longer to receive their results.
A blog released by the DfE today explains the difference in the rules is because when "a pupil's test has been taken on site under supervision, the chance of it being incorrect is minimal so there is no need for a further test to confirm the result."
The blog goes on to say that if taken correctly, "there is a very small chance of a home test being wrong but there is a slightly higher chance of it being administered incorrectly".
Therefore pupils who receive a positive test in these circumstances should report the result and arrange a PCR test.
"In the event that the PCR test is negative – that they do not have Covid 19 – this overrides the lateral flow test if it was taken at home and they should therefore return to school", the DfE added.
Fears over false-positive Covid results at school
Last week biostatistician professor Jon Deeks, of the Institute of Applied Health Research at the University of Birmingham, warned false-positives could mean pupils and staff having to self-isolate unnecessarily and miss more valuable learning time.
The DfE blog states that "robust evaluations" from Public Health England and the University of Oxford show LFDs have "extremely low rates of false positives".
The Department of Health and Social Care (DHSC) says the Innova SARA-CoV-2 Antigen Rapid Test used in schools has a false-positive rate of 0.32 per cent.
NHS Test and Trace statistics show that just 0.19 per cent of all lateral flow tests (LFTs) results for pupils reported by secondary schools so far this term have been positive. The figure is 0.13 per cent among staff.
But Deeks warned: "The issue when you're not detecting many cases is you have to think very carefully 'are you detecting more than we would get false-positives?'"