The Department for Education's plan to save £19 million a year by moving offices has been indefinitely postponed, Schools Week has learned.
The move was proposed in 2014 when the government announced it would move about 1,600 staff from Sanctuary Buildings to the Old Admiralty Building in Whitehall, overlooking Buckingham Palace, by this summer.
BAM Construct UK was appointed to undertake a £50 million renovation of the building, including a new gym for staff and an art gallery.
Work was due to start in November 2015, but BAM has confirmed that it is not engaged in any activity on the site and the department (DfE) says that it plans to move out of Sanctuary Buildings "in due course", rather than within a specific timeframe.
During the original tender process, the DfE asked bidders to include "full refurbishment of the gym" and "creation of space for the government art collection".
The Old Admiralty has been empty since the departure of the Foreign and Commonweath Office last year.
Angela Rayner (pictured right), the shadow education secretary, said the planned move should be abandoned and the refurbishment money spent on schools.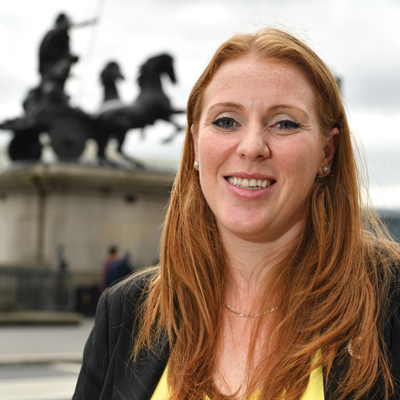 "The plans for a new gym and art treasures lining the walls will stick in the craw of most teachers who are scrabbling around for basic essentials because of the cuts," she said.
"It's time that Justine Greening abandoned this plan – it has dragged on for so long that the chances of any savings being made are fast fading."
In 2014 the department claimed the move would save the taxpayer £19 million a year and "free up money spent on rent so it can be reinvested back into our budget".
"The cost of the move is being strictly controlled," a spokesperson said. "For example, we will be reusing furniture and sharing catering facilities with other departments."
Sanctuary Buildings is leased from a Luxembourg-registered firm, Bart Investment SARL.
The department's plan to sub-let space in the building will also be postponed.
The last major refurbishment of the Old Admiralty Building cost £63 million before the FCO's arrival in 2001, while the government spent £14.2 million updating Sanctuary Buildings between 2006 and 2009.