Emails seen by Schools Week reveal senior leaders at an academy trust arranged and encouraged support for a controversial approach to behaviour management – although it denied it had any such policy.
Delta Academies Trust insisted it did not have a "flattening the grass" behaviour policy, an approach that caused widespread concern earlier this year after reports of assemblies in which children were humiliated and screamed at. Some were excluded.
However, internal emails show senior leaders preparing for "flattening the grass" assemblies in June 2018, and calling on "strong" colleagues to "support" the process.
Allegations about the assemblies surfaced in February, with complaints centred on Delta and Outwood Grange Academy Trust (OGAT). Delta has been run by Paul Tarn, the former deputy chief executive at OGAT, since March 2016.
Delta employees told Schools Week that in these assemblies staff were told to "get in" pupils' faces, to "make examples" of them and to "scream" and "bawl" at them until they cried. They said they were warned if they were "not shouting loud enough".
An internal email between Delta staff, sent in February, highlighted a trust statement released to journalists that said it "does not have a 'flattening the grass' policy". Although this line did not appear in the comment given to this newspaper, it was published by the Times Educational Supplement.
However, 14 emails containing the phrase "flattening the grass" in the subject heading were sent to or from senior leaders at the trust in June last year.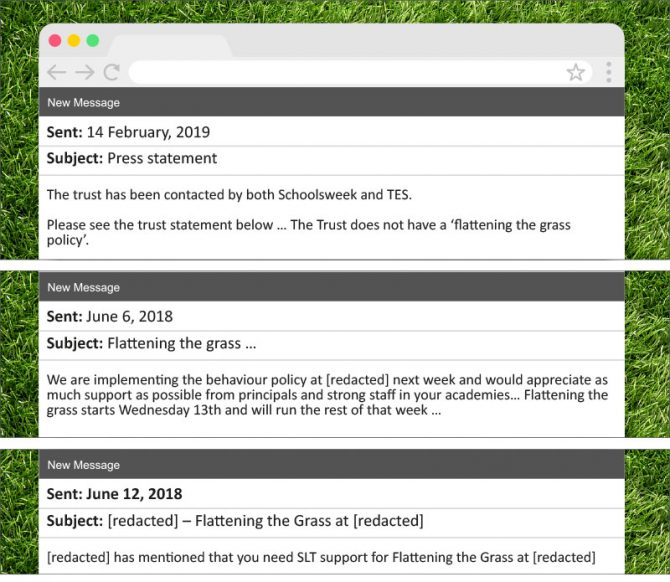 On June 6, one said the trust was "implementing the behaviour policy" at one academy the following week and "would appreciate as much support as possible from principals and strong staff in your academies".
Other emails asked schools to send "year leaders/SLT and key staff over to support" the assemblies and said "directors can come help out". Delta said the title "director" was given to its senior subject specialist teachers.
A spokesperson for Delta, which runs academies in some of the most deprived areas of the north of England, said: "The emails use the phrase 'flattening the grass' to describe the initial work when a school joins us. They do not show that there is or was a 'flattening the grass' policy.
"We do not have a policy. The common factor is that we reassure students and staff that, from now on, they will be supported, they will be safe, and they can teach and learn."
He added that any "initial work" undertaken when a new school joined the trust "will be tailored to its specific issues".
Emma Hardy, a Labour MP and member of the education select committee, told Schools Week: "If Delta believe its 'flattening the grass' behaviour policy – or its behaviour policy which it refers to within the school as 'flattening the grass' – is so great as to have turned around the results in its academies, then why isn't it standing up and using it as an example for all other academy trusts?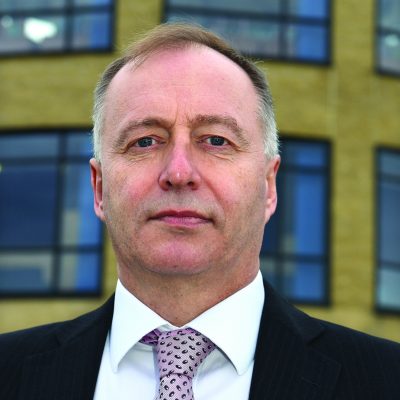 "Why isn't it saying 'to improve schools this is what you need to do?' if it truly believes this is the right way forward?"
At their annual conference last week members of the National Education Union voted in favour of allowing council oversight of behaviour policies in all schools, following the rise of "draconian" and "inhumane" behaviour approaches.
But a Delta spokesperson said its approach meant that "behaviour and grades improve; wellbeing, confidence, self-belief and aspiration rise significantly; and children achieve".
OGAT has previously said it "did not recognise" the allegations that its staff had shouted and screamed at pupils, adding that in "inspection after inspection Ofsted is lavishing praise on our schools for their happy atmosphere and outstanding academic progress".