Cuckoo Hall Academies Trust has been cleared over allegations of inaccuracies in its SATs results, but remains under review for "serious breaches" in its funding agreement.
The Standards and Testing Agency (STA) has announced it found "no ground (sic) for further investigation" of allegations regarding the accuracy and correctness of pupils' key stage two test results.
Concerns over accuracy of the SATs were made in a series of allegations between senior leaders at the trust last November, which saw executive headteacher Patricia Sowter, Cuckoo Hall headteacher Sharon Ahmet and board member Phill Sowter suspended for a short period.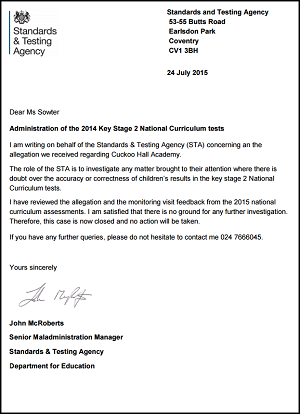 The trio was subsequently re-instated after former chair of governors Andry Efthymiou, who had ordered their suspensions, was removed from post.
A series of investigations into the allegations – which included issues related to safeguarding and the accuracy of SATs results – were then launched.
In a letter to the trust, STA senior maladministration manager John McRoberts said he had "reviewed the allegation and the monitoring visit feedback from the 2015 national curriculum" and was "satisfied" no further investigation was needed.
A trust spokesperson welcomed the news, adding: "We have always been clear that our results are down to the hard work of our students, excellent teaching, and the culture of high standards that runs through our schools."
The trust remains under a financial notice to improve, issued by the Education Funding Agency (EFA) in February, and a governance review is also being carried out.
A Department for Education spokesperson said: "Following an investigation by the EFA, which identified serious breaches of their funding agreement, Cuckoo Hall Academies Trust has been issued with a financial notice to improve.
"They have also received a letter from the regional schools commissioner making clear to the trust that they must now take immediate action to address these concerns. A review of governance arrangements is also underway.
"The notice will remain in place until we are satisfied with the action taken."