Exam students have been hit hardest by Covid-19, a new report has found.
A study by non-profit research organisation ImpactEd also found that those children who struggled the most were not always those previously identified as vulnerable.
The study tracked things like wellbeing, anxiety and home learning in a group of more than 62,000 pupils over a seven-month period between June and Christmas 2020.
It found that pupils in years 10 and 11 experienced the "greatest challenges" with motivation for learning, and this did not change when they returned to school after the first lockdown. This group reported the lowest learning scores from June to November.
Almost 3 in 20 key stage 4 pupils regularly didn't understand work set by teachers, while a quarter of pupils said they could not get help from family with questions about their school work. Forty per cent said they did not have a routine to help them learn at home, compared with 32 per cent of key stage 3 pupils and 31 per cent of those at key stage 2.
Pupils in years 13, 11 and 10 also had the lowest wellbeing scores.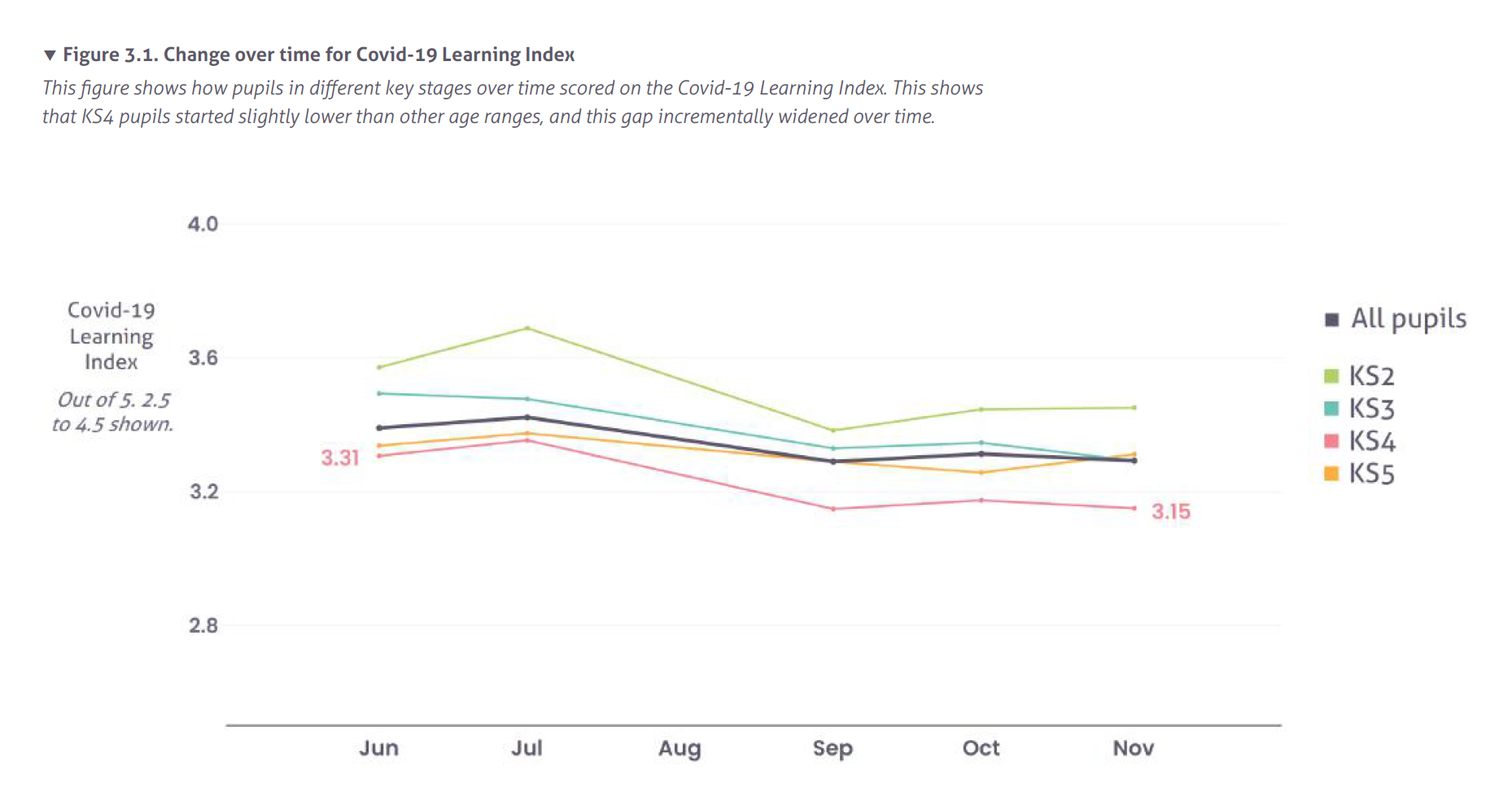 It follows the decision to cancel exams last year and replace them with a system of centre-assessment grades which were initially then recalculated by exam boards based on computer algorithm. However, calculated grades were abandoned after an outcry over A-level results, 40 per cent of which were adjusted down.
Exams have been cancelled again this year following the decision last month to partially close schools, and will be replaced with teacher assessments, but with no computer algorithm this time.
Risk of Covid-19 'lost children'
The report recommended that teachers emphasise "intrinsic motivation for learning" as they navigate uncertainty around assessment arrangements.
Schools also identified a "real risk of lost children", the report found. But pupils who struggled the most were not always those previously identified as vulnerable.
Vulnerable pupils – those with a social worker or an education, health and care plan – have been prioritised for school attendance during both periods of partial closure, along with the children of key workers.
But the government widened the scope of the definition of vulnerable pupils last month, saying those who had difficulty engaging with remote education could also count.
Today's report recommends that schools aiming to understand pupil learning and wellbeing needs should look for "manageable ways to gather data from pupils themselves as well as from teacher observation".
"Where possible, they should use validated measures to reliably identify pupils who struggled during lockdown and to assess the impact of support."
Poorest pupils hard-hit
The report also found that challenges posed by the pandemic were "overwhelmingly felt more" by pupils eligible for pupil premium funding.
Only 45 per cent of these disadvantaged pupils said they understood their school work while learning remotely, compared with 57 per cent of non-disadvantaged pupils.
And 67 per cent of disadvantaged pupils said they were able to use a device when they needed to complete online work set. The figure for non-disadvantaged pupils was 78 per cent.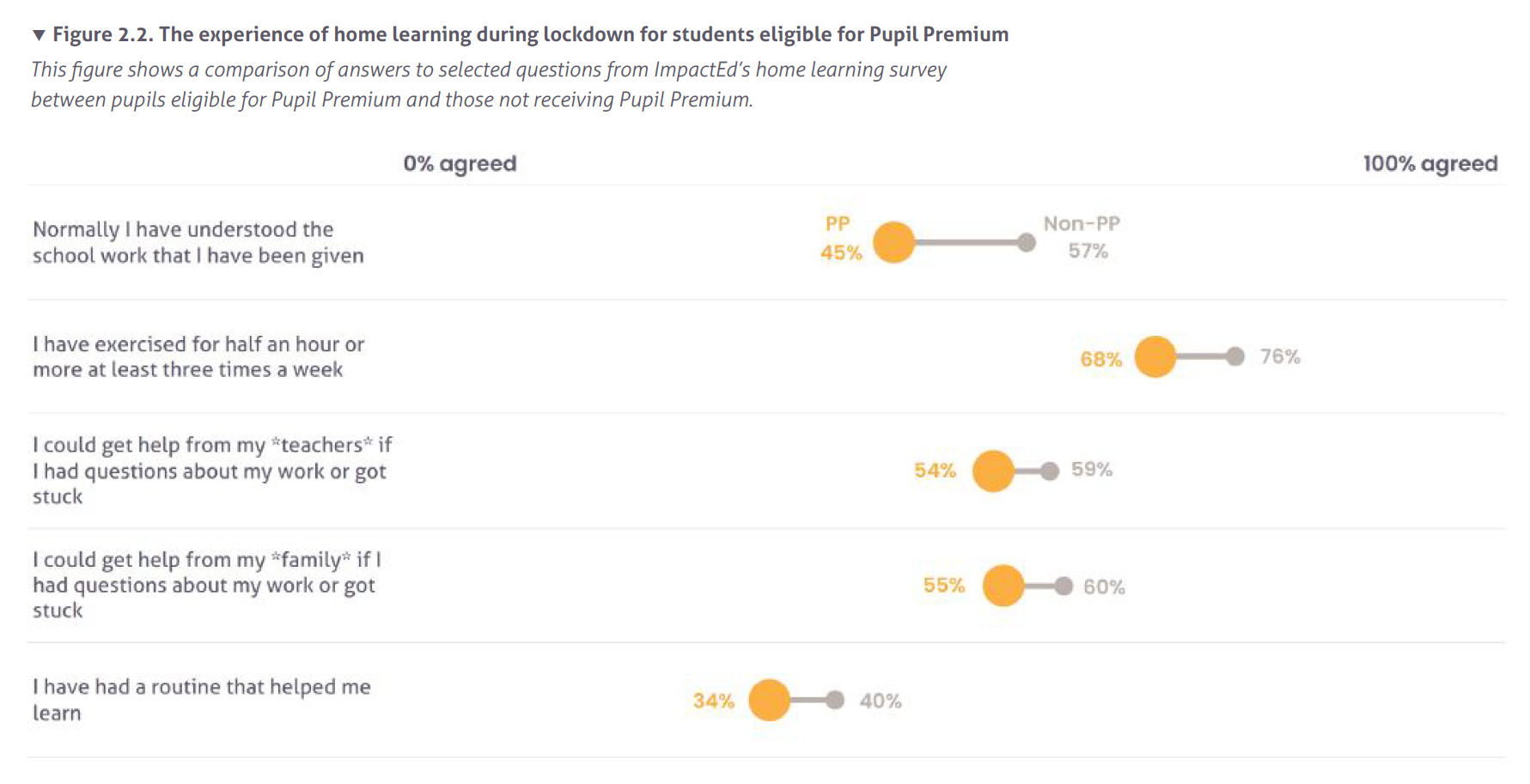 Levels of anxiety about returning to school were also higher in girls than boys, the study found.
James Turner, chief executive of social mobility charity the Sutton Trust, said there was "no question that the pandemic is having a devastating impact on children and young people, not just in terms of their education, but on their wellbeing and mental health too".
"The road to recovery will not be straightforward and will require a sustained and multi-faceted approach, focussed on those who have lost out the most. The recommendations in today's report are a welcome contribution, giving schools practical guidance on providing targeted support for their pupils."