Pupils from 67 schools in east London will get the chance to see a Shakespeare production free this month as part of a council initiative aiming to introduce more children to the world of live theatre.
About 4,500 pupils in the London borough of Newham will attend a Bollywood-themed adaptation of Romeo and Juliet, which has been reworked for children aged seven and upwards, as part of a local scheme called "Every Child a Theatre Goer".
As well as watching the show at the Stratford Circus Arts Centre, pupils will also get the chance to find out about creating a stage show, and will explore the roles of director, designer, choreographer and technician.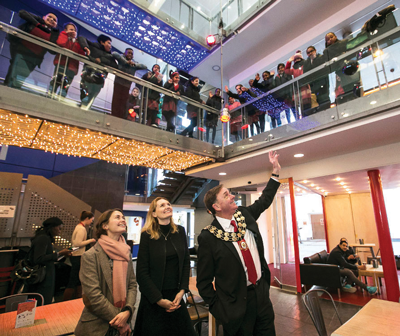 It will be the fourth year Stratford Circus Arts Centre has run the scheme with Newham council, with last year's performance of Akram Khan's Chotto Desh receiving positive feedback from teachers.
Stratford Circus's director, Monique Deletant Bell, said: "It is particularly significant, and heartening, that Newham has continued to support access to the arts for children when the financial outlook for local authorities is increasingly challenging.
"As a local arts centre we value this partnership enormously and it's something that we are committed to making the most of for our audiences – delivering maximum value for the council, children and schools."
Headteachers and the arts centre each year choose a show that will support pupils' learning. Teachers are also provided with classroom materials that link the stage show with curriculum subjects such as English, maths, science and geography.
Becky Lees, creative learning and programme manager at Stratford Circus, said: "We offer wraparound activities, including free CPD for teachers in the term before the production and lively post-show discussions with the creative team at the end of every performance.
"Teachers tell us that cost and travel distance are on-going barriers to making these types of school trip possible under other circumstances."
Featured picture: Pupils with the Mayor of Newham, Sir Robin Wales, during last year's running of the scheme