Veteran broadcaster Sir Trevor McDonald went back to the classroom last week when he visited Sebright primary school in Hackney, east London.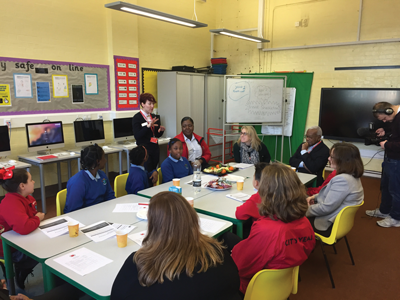 Sir Trevor took part in morning lessons and spoke with volunteers from social action charity City Year UK, which sends 18 to 25-year-old volunteers full-time into schools.
Sebright has worked with City Year UK since 2010, with the scheme supported by the Queen's Trust, of which Sir Trevor is a trustee.
The volunteers work as peer mentors and leaders in the classroom and playground, as well as running after-school clubs.
Speaking of his visit, Sir Trevor said: "The Queen's Trust has long supported City Year UK because its work fits perfectly with our goal of young people helping others."
Janice Thomas, Sebright's headteacher, said: "We were delighted to welcome Sir Trevor to Sebright and show him how we encourage our pupils here. City Year UK volunteers have made a huge difference in our school."
Featured picture: Sir Trevor with City Year UK volunteers and Sebright pupils