An academy trust has been criticised for notifying staff their jobs were at risk during the first week of coronavirus school shutdowns
Bradford Diocesan Academies Trust (BDAT) launched a restructuring consultation process at Shipley C of E primary just last week despite guidance from unions calling to halt such action.
Under consultation plans sent to all staff members, and seen by Schools Week, staff could be dismissed by as soon as the end of May.  
It's so sad to be having these conversations at such a desperate time
Tim Toepritz, NASUWT's national executive member for West Yorkshire, branded the decision "shocking" and said the union was "astounded that they are doing this".
Last week, three teaching unions issued joint advice stating it was "not possible to proceed on matters such as reorganisation/redundancy … which require meaningful consultation in order to meet the law's requirements".
Toepritz said the trust is planning to carry out consultations via conference call, but claimed the decision to proceed is "verging on unlawful" as it "doesn't meet the parameters for an adequate and meaningful discussion".
The union executive explained he was especially surprised by BDAT's actions as the Church of England has already recognised the enormity of the national emergency and suspended all services.
"It's so sad to be having these conversations at such a desperate time," Toepritz added.
BDAT declined to comment when contacted.
It comes as the NASUWT union today sent a letter to education secretary Gavin Williamson raising "deep concerns" about the "unacceptable actions" some employers are taking against school staff during the coronavirus crisis.
The union claim it is receiving hundreds of calls from teacher where contracts are being prematurely terminated, government safety guidance is being ignored, teachers are being penalised for self-isolating and high risk teachers are being told to carry on working.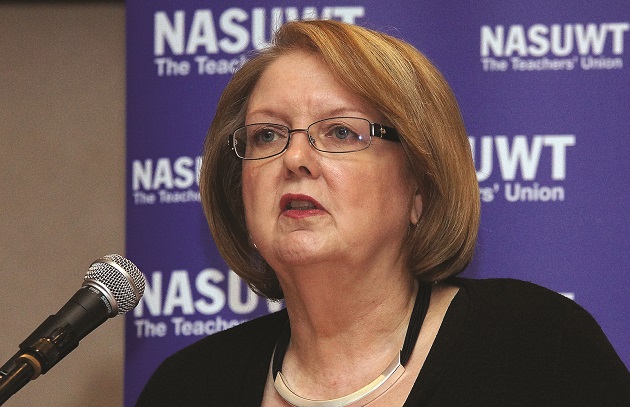 Chris Keates NASUWT's acting general secretary said: "Teachers' rights and entitlements are being trampled over, as these opportunistic employers drive through procedures and processes and make decisions which will lead to job loss and in some cases immediate loss of income as contracts are prematurely terminated.
"The cases we have been dealing with in the last few days sadly demonstrate that too many employers have lost their humanity when dealing with their staff and not even a national crisis has been able to cause them to change their ways."
She has provided a list of the employers' names to the government.
BDAT's decision to carry on as normal is also at odds with other trusts – which have halted redundancy plans amid the outbreak.
Harris Federation – one of the country's largest trusts – is among those which are calling off restructuring plans until the crisis is resolved.
Sara Ford, deputy director of policy ASCL, said: "Employers should give careful consideration as to their ability to run meaningful consultation processes in order to meet the law's requirements with regard to redundancy and restructuring.
"BDAT would need to ensure that affected staff are able to engage fully in the process during the current restrictions."
Ford said it would "be very difficult, in the present circumstances, for an employer to be to follow due process".
The Bradford trust was criticised last year for its "unprecedented" plans to change teachers' pay and conditions. Unions said this would see teachers go unpaid during summer holidays.