The government told schools not to use rota systems for the return of pupils despite scientific advice that it was "likely to be the most effective strategy" for bringing them back, official documents show.
Advice to the government, published today by the government's Scientific Advisory Group for Emergencies (SAGE), shows that advisers reported on April 30 that a system where cohorts of pupils are split in two and then attend for alternating weeks or fortnights "may be a good way to stop extensive transmission chains in schools".
But two weeks later, the government said in official guidance that primary schools "should not plan on the basis of a rota system, either daily or weekly".
The Department for Education told Schools Week that the evidence on the merits of a rota system had been considered, but that the model was not adopted because of concerns about a potential adverse impact on parents, vulnerable pupils and schools.
The documents reveal the government asked scientists to model nine different options, which ranged from keeping schools closed to most pupils as they are now, right through to fully reopening them.
A paper on the modelling exercise by SAGE's interdisciplinary task and finish group on the role of children in transmission, presented to a SAGE meeting on April 30, stated that "scenario 7", a weekly or fortnightly rota system, was "likely to be the most effective strategy to make school attendance normative".
"If steps are taken to synchronise attendance for families with multiple children, this may be the most effective at enabling parents to return to work.
"Scenario 7b, where children alternate in and out of school on a weekly basis, was perceived to be potentially preferable – both developmentally and practically – for young children and working parents."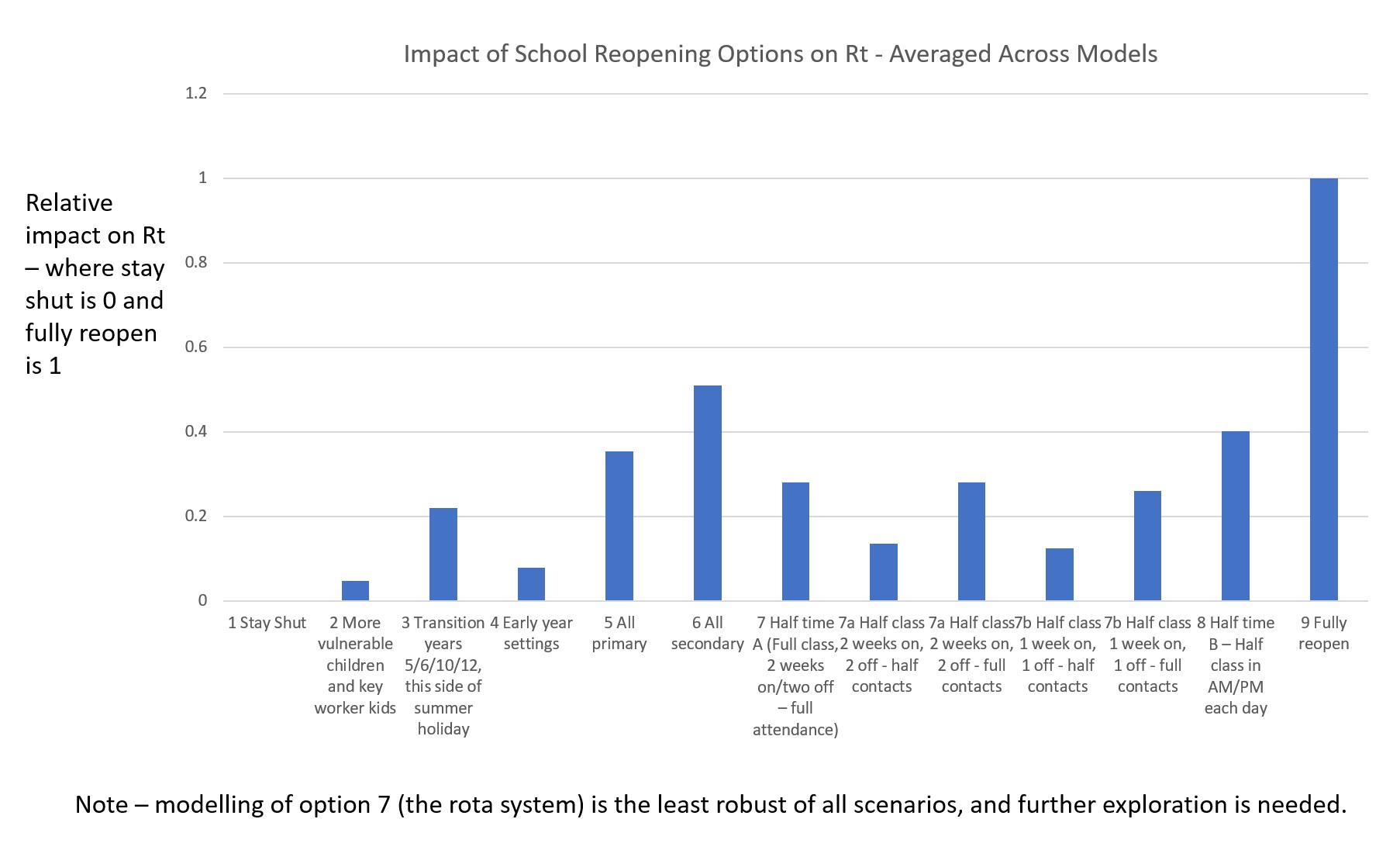 The document continued: "Scenario 7 (alternating one/two weeks on, one/two weeks off) may be a good way to stop extensive transmission chains in schools. When this effect in schools is embedded into the wider community, the impact is less strong, but still has some value in reducing overall R."
However, it also states that "the modelling of scenario 7 is the least robust of the scenarios, and further exploration is needed".
The paper shows the government's current proposal – for schools to readmit reception, year 1 and year 6 pupils and provide "some face to face" support for years 10 and 12 from June 1 – was not one of those modelled by the scientific advisers.
However, a similar proposal involving the return of pupils in years 5, 6, 10 and 12 this side of the summer holiday was modelled, and scientists said it was less likely to cause a rise in infections than readmitting all primary or all secondary pupils, but more likely than an alternating weekly rota system.
Another proposal to admit only early years pupils was found to be one of the options least likely to cause a rise in infections.
A review of child susceptibility, also considered at a SAGE meeting on April 30, found preliminary evidence that children under 18 to 20 years have "lower susceptibility" to Covid-19 than adults, with a 56 per cent "lower odd of being an infected contact".
However, there was "weak evidence" that children and young people play a "lesser role" in the transmission at a population level. The review added: "However, our study provides no information on the infectivity of children per se. Further data are urgently needed to answer these questions"
They suggested further "large, high quality contact tracing studies with repeated swabbing and high quality virus detective studies". In particular, studies investigating secondary infections from children in comparison to secondary infections from adults were "particularly needed".
"Monitoring of infection rates and contact-tracing studies within child-care and school settings will also be important."
Gavin Williamson, the education secretary, today claimed the papers showed that "the phased, cautious return of a limited number of pupils to classrooms has been a carefully considered decision based on the best scientific and medical advice".
"My department continues to engage with the school, college and nursery sectors and I am enormously grateful for all the planning and preparation they are doing, alongside local authorities and academy trusts."
But Paul Whiteman, general secretary of the NAHT leadership union, said heads "still need the government to explain why it has so strongly asserted that a return to school on June 1 is a wise thing to do".
"The government needs to show greater flexibility and a willingness to take local circumstances into account. A robust test, trace and isolate policy is essential if we are to successfully return more pupils to school."