The number of coronavirus outbreaks linked to schools remained static last week despite half of primaries opening to more pupils.
Public Health England's weekly COVID-19 surveillance report, published today, shows there were nine confirmed Covid-19 outbreaks in schools last week. That's the same number as recorded in the week before schools reopened.
While the news may be seen as encouraging, experts have warned "it's too early" to draw any conclusions.
We would urge people against jumping to conclusions and fuelling unnecessary alarm
Professor Alysson Pollock, director of Newcastle University's centre for excellence in regulatory science and part of Independent Sage, said: "The government wasn't even doing community testing until very recently and people couldn't get tests until very recently, so it's terribly difficult to interpret from one week to the other".
Pollock also said a lack of detail on whether the cases related to teachers or pupils further complicated the issues. "There's just not enough information", she added.
The PHE update provides a snapshot of the virus' spread across key settings such as care homes, hospitals, schools and prison based on surveillance systems used to monitor the pandemic.
The report showed there were 14 "acute respiratory outbreaks" in schools last week, with nine testing positive for Covid-19.
An outbreak is defined as two or more people experiencing a "similar illness, which appears to be linked to a particular setting".
Nine positive tests were also recorded in the previous week, which was the May half-term (week commencing May 25). However, that represented a large rise on previous weeks.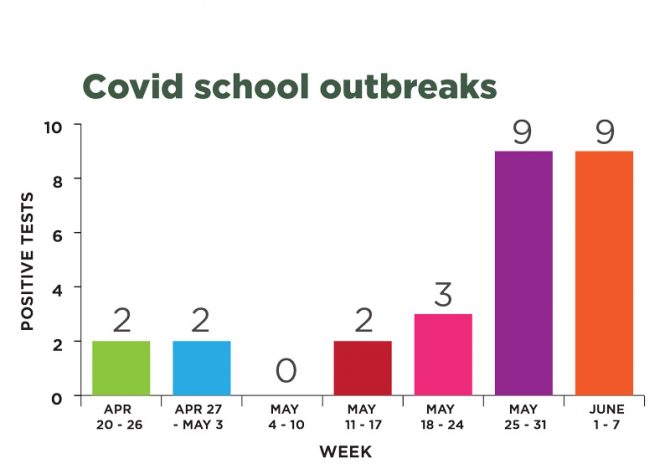 Between April 20 and May 24, the number of positive tests had remained relatively low across school settings, peaking at three.
But the report does not include any further information about why there was a rise in the week beginning May 25.
On the Monday of that week, just 60 per cent of schools were open for vulnerable children and those of key workers. That's fewer than previous weeks where roughly 80 per cent of schools were open.
Dr Joshua Moon, a research fellow at the Science Policy Research Unit (SPRU), added the viruses' lengthy incubation period means any potential rises in cases caused by schools reopening would be seen in future weeks.
"The next few weeks are going to be important in seeing the involvement of schools in any increased spread," he added.
But Moon, who is currently working on a project studying covid-19 testing systems, said schools' precautionary measures will "likely contribute to a reduction in the possible increase".
Last week, both care homes and hospitals had more confirmed outbreaks (68 and 31 respectively) than schools, while prisons had fewer (two).
Earlier this week, official attendance data confirmed just 52 per cent of schools which normally educate nursery, reception, year 1 or 6 welcomed back at least one of those year groups last week.
The number of teaching staff in schools increased during the week, up from 125,000 to 183,000. While the number of non-teaching staff also increased from 87,000 to 238,000.
The government this week dropped its ambition for all primary pupils to return to school before the summer, instead saying the plan is to get all pupils back in September.
Geoff Barton, general secretary of the Association of School and College Leaders (ASCL) said there would need to be "specific scientific advice in order to be able to say with any degree of certainty what the effect of the wider opening of schools has been on coronavirus cases
"We certainly need to monitor the situation carefully, and react accordingly, but we would urge people against jumping to conclusions and fuelling unnecessary alarm."
Information on acute respiratory outbreaks is collected by PHE's Health Protection Teams (HPTs).