Nicky Morgan last week announced a u-turn over the government's controversial proposals to force all schools to convert into academies. Instead, it wants new powers to academise all schools in a local authority where the council is deemed to be either underperforming or 'unviable'. The 'triggers' for both have yet to be decided, as John Dickens reports
Schools in Labour-run local authority areas are more likely to face forced academisation under new laws designed to clamp down on coasting councils.
Nicky Morgan has revealed proposed legislation that will trigger conversion of all schools in an area that is deemed as underperforming.
The government will intervene if a local authority consistently fails to meet a minimum performance threshold across all its schools, showing an "inability to bring about meaningful school improvement".
The Department for Education (DfE) would not reveal further details about which performance measures would be used, but the education secretary has promised it will be open to consultation before any legislation passes through parliament.
In its annual report published in December, education watchdog Ofsted criticised 16 local authorities for "underperforming" as less than 60 per cent of pupils attended good or outstanding secondary schools, and there were lower than national GCSE attainment and levels of expected progress.
Twelve of these councils are Labour-run, and all but three are based in the north of England or the Midlands, leading to chief inspector Sir Michael Wilshaw branding England a "nation divided" by the quality of its secondary education (see map, right).
Ofsted has also inspected 10 local authorities following concerns over their school improvement arrangements. Five are controlled by Labour, three are Conservative-run and two have no overall control, but Labour has the largest number of councillors.
Morgan's u-turn followed an uprising against forced academisation from backbench Tory MPs who were particularly concerned about the potential impact on smaller schools in rural areas. Our analysis suggests that Morgan's concession would protect these areas.
Lucy Powell, Labour's shadow education secretary, writing in today's edition of Schools Week, said many secondary schools in the areas singled out by Ofsted were already academies.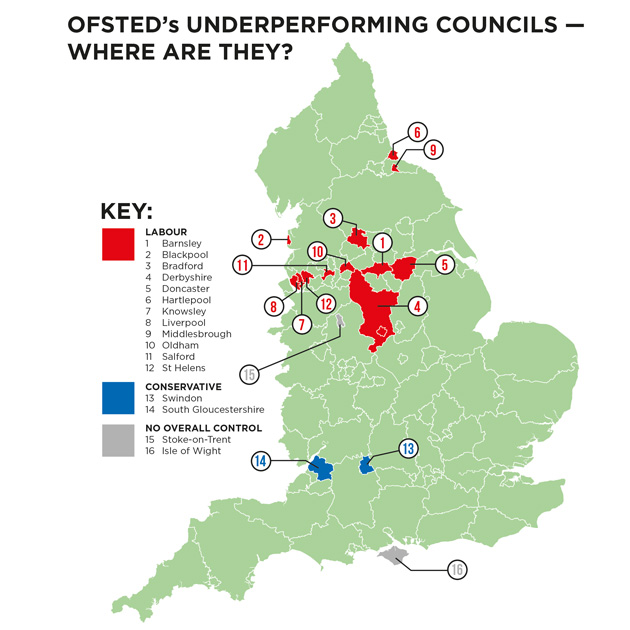 She said the new plans would mean more time, money and energy would be put into changing school structures, instead of driving up standards.
The Local Government Association said that it would push for councils to be judged solely on the performance of local authority-maintained schools in their area.
Analysis published by the CentreForum think tank yesterday, which only took into account council-maintained schools, found 53 local authorities had below national average key stage 2 results in their schools, and 86 authorities had below average at key stage 4.
Morgan admitted in parliament this week that the proposals will also mean that good or outstanding schools in these underperforming councils will still face forced academisation.
"In some circumstances, that might involve the conversion of good and outstanding schools when they have not chosen to do so themselves.
"However, the need for action in those limited circumstances is clear, because of the considerable risk to the standard of education that young people in those schools receive, as the local authority is either unable to guarantee their continued success or support further improvement."