Paint your classroom walls taupe, grey or white with just a "splash of occasional colour" and learning will improve, new research by the University of Salford suggests.
The three-year investigation by the HEAD project (Holistic Education and Design), concludes that good primary classroom design can boost progress in reading, writing and maths by up to 16 per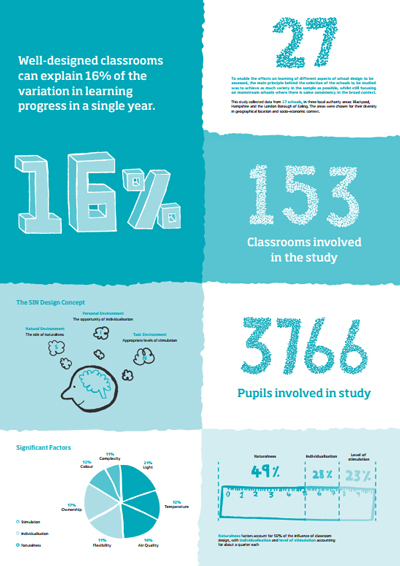 cent in a year.
Gathering evidence from 153 classrooms in three parts of England, the findings are summarised in Clever Classrooms, published on Wednesday.
After analysing aspects of the environment including the size of windows, expected temperature and acoustics, the study suggested that the results of an average child in the most effectively designed classroom, compared with a child in the least effectively designed, could be boosted by 1.3 sub levels in a year.
Department for Education guidance says that primary students should move two sub-levels per year.
Speaking exclusively with Schools Week, Peter Barrett, leader of the project and professor of management in property and construction at Salford, said some findings might surprise teachers.
"For example, teachers putting displays up should probably do a bit less. We assumed that very stimulating displays would be good, but moderate displays are a bit better.
"There are low levels of learning when the environment is under-stimulated, and low levels when it is over-stimulated. It is right at the mid-point – when you have a highlighted wall against a calm background, or plain walls with an occasional splash of colour – that you get the best result."
In total, he said, 16 per cent of the variation in student achievement could be explained by the visual environment.
The research was originally inspired by researchers in Boston who found that visual complexity in the environment made a difference to cognitive outcomes for people diagnosed with dementia.
Professor Barrett said the research had drawn on ideas that the whole school environment might matter for learning, and so other aspects of primary schools –such as pathways – had also been taken into account.
However these were not found to be important to learning.
"At primary level it is the classroom that matters. At first we were surprised, but when you take a step back, that's sensible – to a primary pupil, one classroom is often his or her whole world."
The team wants to continue its work by looking next at secondary schools.
"We are hoping to explore the same idea with secondary schools – although they have different pupils in different subjects in different types of classrooms. Also, older pupils have hormones doing funny things, which might prove interesting."
Speaking about the findings, John Coe, chair of the National Association for Primary Education (NAPE), said: "It is unusual and refreshing to welcome research that considers the impact of primary
school design upon the lives and learning of young children.
"The children's feelings of ownership of their surroundings are also important, as is a classroom environment that is neither over-stimulating nor unduly calming.
The research offers sound sense and teachers, putting children first as always, can improve their classrooms without spending a lot of money."
The findings are published in full in the Building Environment journal and are available as an open access title.
The Clever Classrooms report is also available online.