A new policy development initiative to reduce bureaucracy across the public sector is to be piloted first with teachers, Nick Clegg, the deputy prime minister, is expected to say.
The Liberal Democrat leader is giving a speech at Belleville Primary in Clapham this morning, in which he will invite teachers to help "stop that runaway train of bureaucracy."
The Workload Challenge, as the initiative has been named, seeks to find solutions to the problem of unnecessary tasks, and comes in three parts.
An online survey via the tesconnect.co.uk website will be open for just four weeks, until the 21 November, and questions include: "What do you think should be done to tackle unnecessary workload – by government, by schools or by others?" A new email address, workload.solutions@education.gsi.gov.uk, can be used to send additional information.
There will also be "teams" visiting 30 schools to investigate the bureaucracy.
Finally, a panel will consider the submitted ideas and findings before working "with Ofsted, the teaching unions and other leading education stakeholders to put them into action starting early next year."
When asked who would run the teacher Workload Challenge, a spokesperson for Clegg said the Department for Education (DfE) would manage it.
However, he was keen to stress the idea came from and was developed by the deputy prime minister, and his office would continue to be involved with the DfE to "see it through."
Clegg is expected to say this morning: "Every time I speak to a teacher, nurse, social worker, Jobcentre Plus Manager, police officer or council worker one issue comes up again and again: their battle with bureaucracy.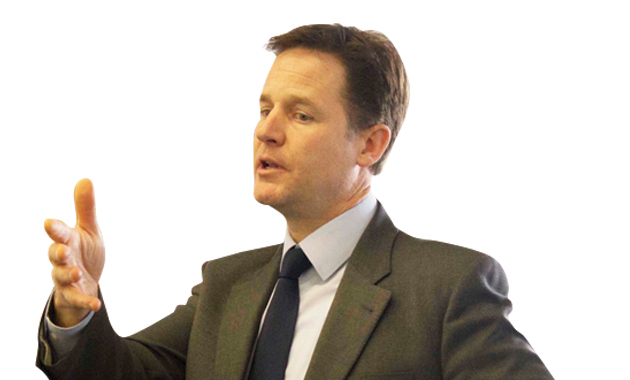 "Take teaching. Some people are still under the misguided impression that it's a profession built around short days and long holidays. But talk to a teacher and they'll tell you about their working week of 50 hours or more. They'll also tell you how much of this time they feel is wasted on unnecessary processes, box ticking and form filling.
"We're talking about hours spent struggling to stay on top of piles of incident reports, over-detailed lesson plan templates, health and safety forms, departmental updates, training requests and so on that threaten to engulf them every week.
"Not to mention the reams of additional evidence which teachers pull together because of a long-held belief that Ofsted inspectors want to see everything written down.
"Some of this work is unavoidable. Every school needs to ensure the safety of its pupils and staff and maintain the highest standards possible. But should you really have to fill in multiple risk assessment forms for every school trip when just one form would be better?
"I believe it's time for us to stop that runaway train of bureaucracy in its tracks, giving our teachers more time to do what they do best: creating and planning the best possible lessons and experiences for our children."
The initiative is part of "wider work" by the DfE, and comes after the Education Secretary, Nicky Morgan, pledged at the Conservative party conference earlier this month, to reduce the burden on teachers. This also follows guidance published by Ofsted last Friday meant to "dispel myths that can result in unnecessary workloads in schools."
Clegg is expected to add: "We're asking teachers across the country to take a long hard look at how they spend their working day and what pointless processes and paperwork they think should be cut or scrapped altogether."
Schools Week will be live tweeting Clegg's speech from Bellville Primary tomorrow via @AWonlocation and for reaction and more on this story, see Friday's paper.