A year 6 pupil has used a school football tournament to raise more than £1,000 for the cancer ward that saved the life of his classmate.
"Sports mad" Oliver Finden of The Elms junior school, in Nottingham, was told he had B-cell Non Hodgkins Lymphoma last November and endured more than three months of treatment in the children's cancer ward at the Queen's Medical Centre (QMC).
School friend Josh Glover inspired classmates and parents to rally in support of Oliver and organised the tournament, which saw more than 60 pupils brave horrendous weather in early April for a series of matches.
Year 5 and 6 pupils who didn't play were still able to lend a helping hand by selling more than 300 cakes to waiting parents and children on the school buses at both The Elms and its senior school, Trent College.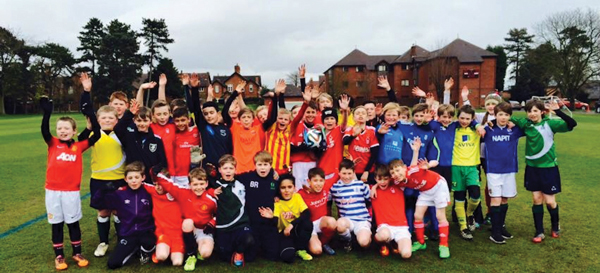 Headmaster Keith Morrow said: "Josh is a very considerate boy and it was no surprise that The Elms school community got behind him and made this event such a success."
Oliver and Josh, with their mums Andrea Finden and Marie Glover, recently visited the E39 Children's Oncology Ward at QMC, where the treatment was delivered, to present the cheque for £1,050.
Mrs Glover said: "Josh had been worried no one would come. The boys have been friends since reception and he really wanted to do something for Oliver.
"When people started saying they wanted to be involved he was really touched and in tears."
Oliver's mum, Andrea, said: "I was very emotional when I saw everyone had turned out to support the boys. Oliver lost his confidence during treatment.
"He was always so proud of his 'surfer dude' long hair, which is now beginning to grow back, and only wanted a few very close friends to see him in hospital. For him to see everyone at school supporting the tournament was a huge boost to him."
She also had special praise for The Elms in its support during Oliver's treatment and ongoing recovery, labelling the school as "amazing".
After February half term, Oliver started a phased return to school doing 12 hours a week. Mr Morrow arranged for nurses from charity Macmillan Cancer Support to talk to the staff and children about how to support Oliver when he was back.
Mrs Finden was even given her own office at the school for a few weeks so she could work there and be on hand if Oliver was ill or needed her.
Oliver is now on the road to recovery and returned to school on full-time basis after Easter.
Mr Morrow said: "We're delighted to see him back at school and know both boys will continue to make a big contribution to life at The Elms."
The money from Josh's tournament has gone towards a fundraising target of £15,000, which Andrea is aiming to achieve.
Visit www.justgiving.com/Andrea-Finden to donate.
Main pic: From left: Hospital fundraiser Ruth Brady, Oliver's younger brother Alex Finden, Josh Glover, Oliver Finden and nurse Katie Manning