The proportion of children getting a place at their first choice secondary school has remained stable, despite the number of applicants increasing to a near ten-year high.
Despite the largest number of children – 548,006 – in almost a decade and an increase of 2.8 per cent from last year needing a place for year 7 in September, schools have managed to offer the same amount of first preferences as last year (84.1 per cent and 84.2 per cent respectively).
The figures, released by the Department for Education (DfE), do not yet quite meet the highest number recorded in the recent years, when numbers reached 568,723 in 2008.
The number of children needing a place at secondary school is expected to increase by 20 per cent over the next eight years, as the bulge in primary school children experienced over the last decade makes its way through the system.
In February, school leaders warned of a squeeze on secondary school pressures as more than half of them said they were oversubscribed. But today's figures show schools are managing to cope with the rise in pupils.
However, while the national picture looks stable, there are stark differences in offer rates by local authority for secondary schools.
London has the lowest proportion of applicants receiving a first choice offer, with an overall rate of 68.8 per cent. Children in inner London were much less likely to receive a place at their preferred school, at just 65.6 per cent, compared with 70.4 per cent in outer London.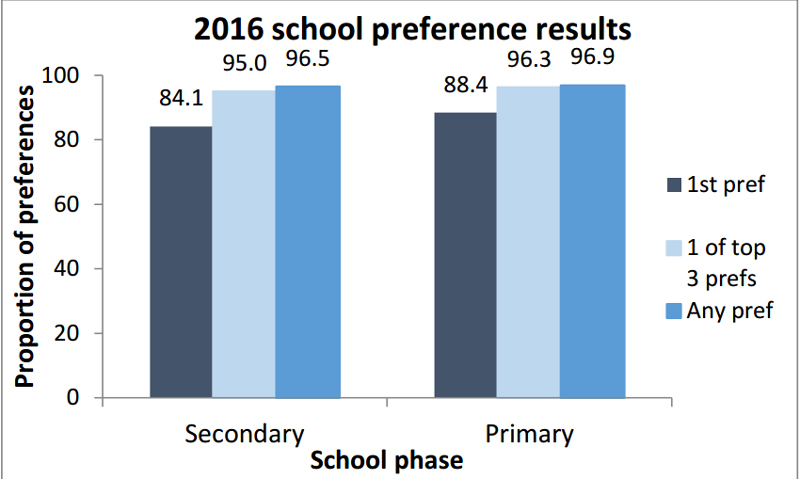 The three local authorities with the lowest first preference rates were Hammersmith & Fulham (52 per cent), Westminster (53.4 per cent) and Lambeth (57.9 per cent); these are the same as in 2015.
Children in the north east and south west were equally most likely to get into their first choice school – with a rate of 91.8 per cent and 91.9 per cent respectively.
At primary level, the offer rates were slightly higher across the board, with 88.4 per cent of children getting into their first choice school – up by 0.6 percentage points on last year. There were 641,572 applications this year, up 0.8 per cent from last year.
A DfE spokesperson said: "Delivering good quality school places is a top priority for this government and today's figures show that the system continues to work.
"The vast majority of pupils were offered a place at their first choice school and more than 95 per cent received offers from one of their top three choices.
"Our reforms and our academy programme are raising standards for all children with 1.4 million more pupils in good or outstanding schools than in 2010. We will continue to invest and work hard to ensure every child has an excellent education that allows them to reach their full potential."