Schools put into special measures by Ofsted over extremism fears are "improving slowly", Sir Michael Wilshaw has said today.
But the Ofsted chief, writing to education secretary Nicky Morgan, has warned the "malign elements that conspired to destabilise schools" may still try to exploit weaknesses.
The advice notice follows targeted inspections in 21 Birmingham schools last year as part of an investigation into alleged Islamic radicalisation of pupils and staff. Seven schools in Tower Hamlets were also inspected last November over concerns about the inappropriate imposition of religious ideas.

Today Sir Michael said that progress is being made in both local authorities.
But: "I remain concerned that the malign elements that conspired to destabilise several schools may seek to exploit any perceived weaknesses in leadership or governance,

"As one school leader in Birmingham said to me, 'parents of the children in my academy are good people but were sometimes "got at" by outsiders to put undue pressure on the school to change its policies'.
"Ofsted will continue to monitor schools in Birmingham and Tower Hamlets and will, of course, keep you updated on developments in these two local authorities and others where similar issues occur."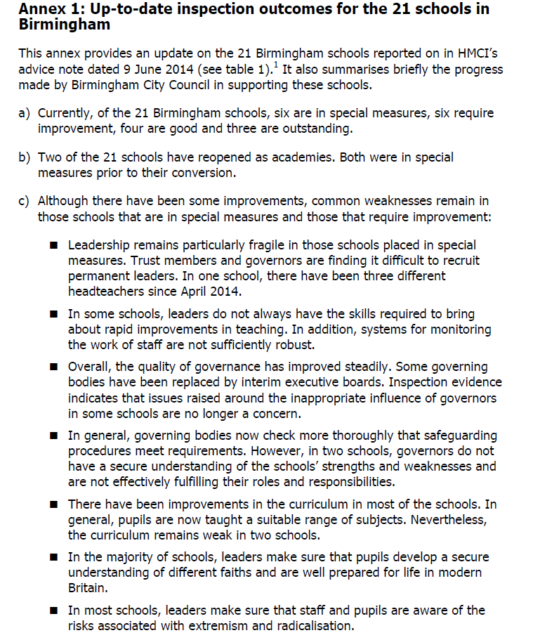 Six of the 21 Birmingham schools remain in special measure, which Sir Michael said was mainly due to stability of leadership, and staff recruitment and retention.
But he added: "It is pleasing that there have been improvements to the curriculum across nearly all of the schools in question and that appropriate steps are being taken to prepare children for life in modern Britain."
Sir Michael talked about his visits to schools placed in special measures, Saltley and Park View Academy, and said that both were working hard to improve.

He praised the new principal at Park View, but said the overall quality of teaching is suffering because of high levels of staff absence.
"The academy has been unable to make permanent appointments to some key posts because of the time it is taking to investigate allegations made against a number of teaching staff who are suspended or assigned to supervise duties."
He called for the cases to be brought to a swift conclusion.
Sir Michael said there was also evidence schools in Tower Hamlets which were put into special measures are acting on the findings of Ofsted's original inspections.
Three of the independent schools in the region – where there were "serious educational and safeguarding failings" – were now meeting the expected standards for students' spiritual, moral, social and cultural education.
However, in all six schools, he said a number of the independent school standards remain unmet.
Up-to-date inspection of all the schools are available here.
A Department for Education spokesperson said: "We welcome the improvements highlighted in Ofsted's report but recognise there remains a great deal of work to do.
"We are determined to support these schools to make further progress and are confident that effective change will continue so that pupils get the high standard of education they deserve."
The spokesperson added that all the schools in Tower Hamlets have improved as a result of its swift regulatory action.