Bellevue Place Education Trust (BPET) is the third largest free school owner, with seven primary schools in and around London, writes John Dickens.
But it has operated until recently out of the spotlight shared by some of the other major players such as Ark and Harris.
The trust featured in a Sunday Times article this month, which reported Saudi Arabian oil tycoon Tarek Obaid was a key investor in the private education firm that helped to set up the trust. The connection came to light after the Panama Papers data release.
He is the largest shareholder, via a British Virgin Islands company, of Bellevue Education – a private education firm that runs 13 independent schools in the UK and Switzerland.
In 2012, the firm co-founded BPET – which runs the free schools – with education consultancy company Place Group.
Chief executive Mark Greatrex, a former civil servant and director at academy chain E-ACT who has been in post since May, distanced the free school chain from the tycoon.
He told Schools Week: "I had never heard of the chap [Obaid] and he has no involvement with the running or governance of the trust."
On its website, the trust states that it brings together the best of the fee-paying sector with the know-how of setting up new schools. Its first school opened in 2013, two a year later and then four last September.
The department said the trust, like all others, was the subject of "detailed scrutiny".
The spokesperson also said BPET and Bellevue Education were "separate" organisations.
This has been questioned by some commentators, who pointed out that two of the trust's members – Marwan Naja, a private equity investor, and Mark Malley – also hold top jobs at Bellevue Education.
But Greatrex said the trust was independent with separate governance structures. He described Bellevue Education as more of a "significant partner with long-term commitment" in the trust.
He attributed the company's involvement as a key reason BPET was trusted to open seven schools, without being able to show any indication of prior performance. The two academy trusts with more free schools, Harris and Ark, were able to show Ofsted results of their pre-existing academies.
BPET also trumpeted Bellevue Education's involvement in its free school application.
Six of the trust's schools opened in areas with a shortage of places and were backed by their local authorities, Greatrex said.
But the one that did not, Islington Free School, caused a local storm after Michael Gove, the former education secretary, secured a site in the borough for BPET – despite the council having plans to raise
£3 million by selling it off for new homes.
Greatrex said the trust and Islington council have now called a "score draw".
He said parents had bought into the trust's ethos and claimed the "wider education experience" BPET offered meant that pupils got more than just core subjects.
An example of this, he said, was a performance of Cinderella by year 1 pupils last week, with 80 per cent of it performed in Spanish.
The trust's first school, Rutherford House School in Wandsworth, was rated good by Ofsted in September.
But Greatrex added: "Now is the time to consolidate and prove with evidence from Ofsted that our schools are good or outstanding."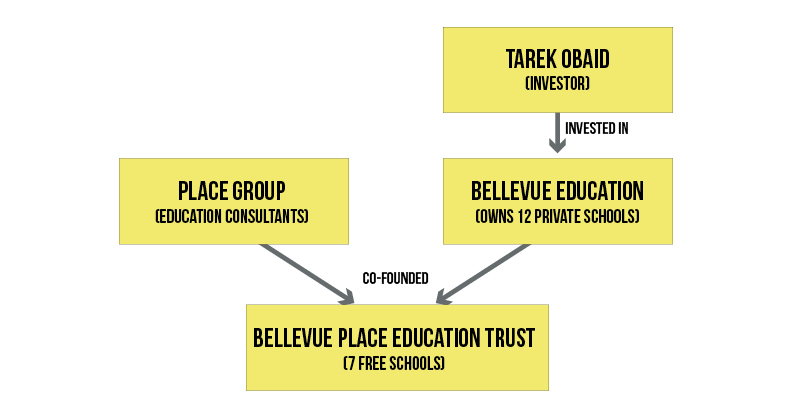 Updated, 3.30pm Friday, 22th:
The NUT has demanded an inquiry into how an "offshore company exposed in the Panama Papers has been allowed to play an influential role in a multi-academy trust running seven state-funded free schools".
Christine Blower, general secretary of the NUT, said: "What due diligence has been applied when approving BPET's applications to open free schools? Were the backgrounds of the two companies behind the academy trust – Bellevue and Place Group – scrutinised? If not, why not?"
She added: "If it [the government] cannot oversee those that currently run around 5,000 academies and free schools in England – what confidence can we have that they can oversee the dealings of those MATs running all 20,000 schools in England?"