Authorities on a "target list" for academisation have been unaware that the Department for Education "concentrated its efforts" in their areas.
The DfE released the list of 17 local authorities in which it wants to drive up academy numbers to Schools Week as part of a Freedom of Information request.
They include Kent, Darlington, Nottinghamshire and Essex. On average, 21.6 per cent of schools in these authorities are academies, sponsored and converted.
However, there is a large difference across the authorities. Derbyshire has the lowest proportion of academies, 4.6 per cent, as of September. In Darlington 74.4 per cent of schools are already academies, the highest proportion in the country.
The DfE has offices in three of the listed areas: Nottingham, Sheffield and Darlington.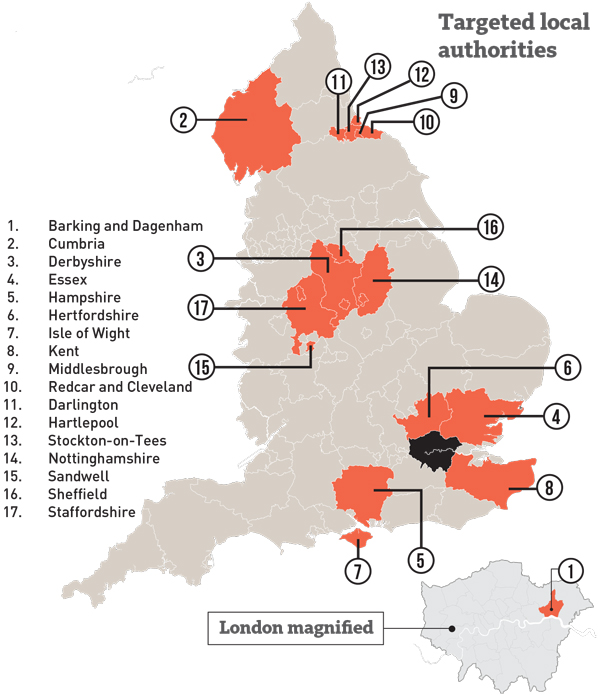 Lancashire and North Yorkshire have a lower proportion of academies, but are not on the list.
In the FOI response, the DfE said: "The department carries out work across the country on academy conversion and matching underperforming schools with high quality sponsors. In late 2013 we identified 13 areas where we would particularly concentrate our efforts to drive up academy numbers, strengthen local sponsor markets and address underperformance."
The initial list named Tees Valley as one of the 13 targeted areas; however, this includes five local authorities including Middlesbrough and Hartlepool.
The DfE told Schools Week it selected the authorities based on the performance of maintained schools, availability of local sponsors and the numbers of schools that might "potentially convert" to become academies.
John Slater, service director for education standards and inclusion at Nottinghamshire County Council, said: "We are not aware of a list . . . and will be talking with our colleagues in the department to find out more information and what it means for Nottinghamshire."
Stockton Council's cabinet member for children and young people, Ann McCoy, said: "We are not aware of this list. However, we do meet regularly with the DfE to discuss performance and academy conversions and are comfortable with these arrangements."
An education adviser at another authority said: "I am not sure why we are on this list. We do not recognise the DfE's view on this; their information is flawed."
A DfE spokesperson said: "We worked closely with local authorities and other partners in each area. Our main objective was to trial new, more regionally focused ways of working ahead of the appointment of regional school's commissioners in September.
"We are also providing £10 million to drive up educational standards in the north of England to help outstanding academies sponsor local schools where provision is weakest. More than two-thirds of academies – 3,062 of 4,400 in England – are schools that have actively chosen to convert."