Assaults on school premises have soared 72 per cent in the past four years, with 27,805 reports received by the police since 2015.
New figures obtained by Schools Week under the Freedom of Information Act reveal the growing need for police intervention in schools, as well as the worsening situation faced by frontline staff.
It is deeply worrying to see that levels of verbal abuse directed towards teaching staff from parents has increased
Teaching unions said the findings were "deeply worrying" and that stretched resources resulted in poorly implemented policies and processes.
One headteacher in Durham told Schools Week he had seen a rise in "rudeness and a lack of tolerance" towards his staff.
Latest figures from 15 English police forces (out of 39) to respond to the FOI request reveal a steady increase in the number of reports of assaults since 2015.
In 2015 there were 4,089 reports, up to 7,020 in 2018. Data to the end of July this year shows there have already been 4,354 reports this year.
Schools Week removed data relating to sexual offences and eliminated where possible statistics relating to nurseries, colleges, universities and other educational settings.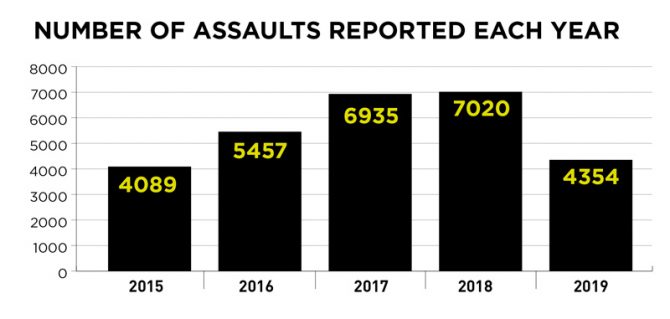 Greater Manchester Police received the highest number, with 5,574 reports of assaults in schools since 2015.
Of the 1,448 reports at schools in greater Manchester in 2018, 206 listed teachers or headteachers as victims. Classroom assistants, support workers, children and students were also listed.
In May, delegates at the National Association of Head Teachers' annual conference told of the barrage of abuse and threats of violence from parents. Some said they had been threatened with an axe.
Recent surveys by pollsters Teacher Tapp found 39 per cent of primary teachers and 26 per cent of secondary teachers had been subjected to verbal abuse by a parent or carer during the past academic year.
Geoff Barton, the general secretary of the Association of School and College Leaders, said: "It is deeply worrying to see that levels of verbal abuse directed towards teaching staff from parents has increased."
Such behaviour was "never acceptable. All staff in schools and colleges are entitled to be treated with respect – precisely as we would expect leaders and teachers to deal with parents."
Andy Byers, the head of Framwellgate School in Durham, wrote to parents last month after staff had been "verbally abused".
He warned that some heads of year and pastoral staff "are sometimes fearful about talking to certain parents because of their attitude, aggression, rudeness or unreasonable behaviour".
Byers told Schools Week: "The rudeness and the lack of tolerance, I think, is a more recent thing in the past year or two. We have seen far more parents being downright rude."
He partly blamed the current political climate, with students and parents emboldened to complain more freely – and in a ruder, more confrontational manner.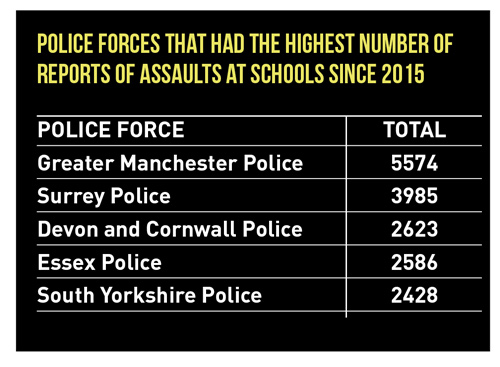 Surrey Police received the second highest number of calls, with 3,985 reports.
Alison Barlow, Surrey's assistant chief constable, said the force's statistics included violence without injury, such as harassment and malicious communications, which might explain the relatively high number of reports.
In South Yorkshire, of the 571 reports of assaults in education premises in 2017, 78 were directed towards teachers – the second highest victim type after an "acquaintance".
In 2016, 70 teachers were the victims of assaults; 43 in 2015.
Stuart Walne, the chief inspector for neighbourhood policing in Sheffield, said South Yorkshire Police "takes all reports of violent crime incredibly seriously", adding that officers worked closely with schools across the region to address issues such as violence, antisocial behaviour or other types of criminality.
Data obtained by Schools Week earlier this year also revealed a spike in police call-outs to schools in the past five years for other reasons, with pupils as young as 10 found with weapons.
A Department for Education spokesperson said that "any form of violence on school premises is unacceptable", adding that the government has recently consulted on new school and college security guidance to support schools in dealing with instances of violence.
The spokesperson added: "Teachers should in no circumstances be subjected to abuse simply for doing their jobs and the Secretary of State has been clear that he will back teachers to enforce discipline, and give them the powers they need to deal with bad behaviour."