Schools across the Ark Schools network will be closed today as the trust celebrates its 15th anniversary at a special bash, including a keynote speaker flown over from New York and branded chocolates.
Ark's "teacher summit", dubbed 'Ark 15: The journey to excellence', will take place at Central Hall in Westminster.
The trust is flying over Julie Jackson, president of the American charter schools group Uncommon Schools, to deliver a keynote speech for the event.
Posts from the Ark Schools account on Twitter also show a selection of M&M chocolates branded with the Ark logo ready for the summit.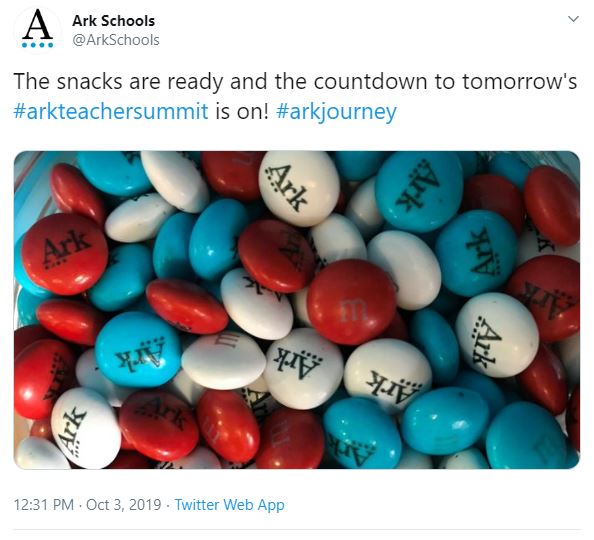 A spokesperson for the academy trust declined to comment on how much the event was costing or if attendance was compulsory, but insisted Jackson was flying over on an economy flight.
He said Ark holds three extra "network-wide inset days" each year, and that all multi-academy trusts "should provide opportunities, through inset days, for teachers and staff to come together and learn from each other".
Ark staff have been provided with lanyards that they must wear to the event, and have been told to dress in work attire and bring small bags that are prepared for bag checks. The event begins at 11.30am, with some teachers attending staff training at school beforehand.
Other events for the day include presentations on "lessons learnt" by the trust, the chain's priorities from 2020 and beyond and awards for teachers.
The last time Ark held a trust-wide event was in February 2016, when Ark gathered almost 2,000 teachers and teaching assistants together at Central Hall for the Ark Education Conference, described as a day of "professional development, collaboration and celebration" on its website.
The day, which included development sessions on topics from helping primary pupils with their handwriting to planning A-level lessons, included a teacher flash mob singing a re-written version of the Mariah Carey and Whitney Houston hit 'When You Believe'.