Another grammar school is considering opening a satellite site 12 miles away from its main location, but it seems pupils will be educated separately.
Kent County Council has launched a consultation today to expand Tunbridge Wells Grammar School for Boys onto a site in Sevenoaks occupied by the controversial Weald of Kent Grammar School "satellite".
Grammar critics fear it could be the first of a new wave of such applications after the Weald of Kent – the first grammar to expand onto a satellite site – was allowed to stop sharing pupils across both sites.
It prompted accusations the annexe is now actually operating as a new grammar school, which is illegal.
Existing grammars can only expand onto satellite sites if they are "genuinely part of the existing school".
Dr Nuala Burgess, chair of anti-grammar schools campaign group Comprehensive Future, said: "The fact a grammar school can build a second school building, with barely more than a shared uniform in common, means that we could see many new selective schools springing up all around the country.
"Any grammar school could clone another school forty miles away simply by calling the new building a 'satellite' of the main school."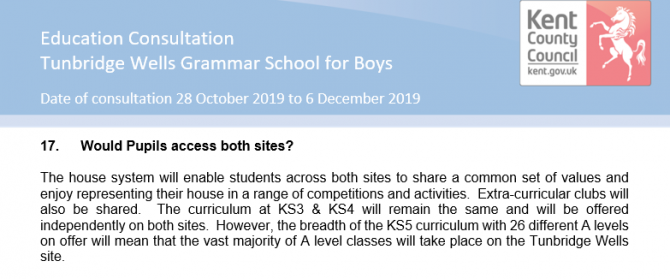 Kent County Council's consultation document suggests pupils will be educated separately, with only extra-curricular clubs and the house system shared.
Although there would be a "minimum expectation" that senior leaders would work across both sites.
The Weald of Kent grammar school was given permission by the government in 2015 to open a satellite – nine miles from its main location – on the condition it operates as one school.
To meet that requirement, it ran a "cross-site" curriculum, bringing pupils together at least once a week. However Schools Week revealed earlier this year that the sharing of pupils had been dropped.
Labour MP Lucy Powell, who was shadow education secretary in October 2015, called for an investigation over "real concerns" the satellite was now "in fact an illegal grammar school".
As the Tunbridge Wells Grammar School for Boys is a maintained school, the council will decide whether to approve the expansion.
Guidance states expansions onto satellite sites can "only happen if the new site is genuinely part of the existing school".
Factors councils should take into account include the reason for expansion, curriculum arrangement including movement of pupils between sites and how frequently staff will work on both sites.
It states the "more integration, the more likely the change will be considered as an expansion".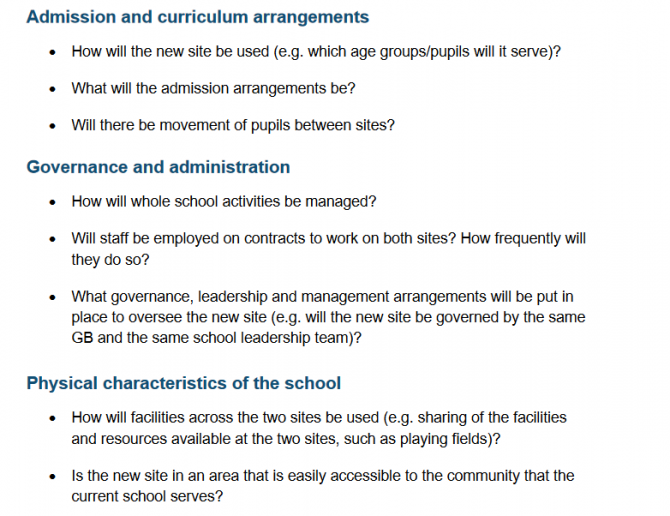 Comprehensive Future has already signalled it would explore legal action if the proposal doesn't meet the relevant criteria.
Kent council said the expansion – adding an additional 90 places to the school's current 210 published admission number – would address "significant short and medium-term" pressure on places. It would deliver another 450 places at least, with potential for some sixth form places too.
The consultation states that a "significant" proportion of the school's pupils already travel from the satellite location in Sevenoaks to the school, with some spending at least three hours on public transport.
The expansion into satellite provision would also "allow the school to share its ethos and educational values with a wider cohort of pupils, whilst ensuring all systems and structures from governance and leadership to curriculum planning will remain consistent".
Plans will allow the school to share its ethos and educational values with a wider cohort of pupils
The council and school also said the proposal would "aid staff recruitment and retention due to the wider opportunities it can provide for staff development".
Accommodation to house three-form entry for boys' provision has already been built by the council on the site. Additional building work would be done if the plans get the go ahead, with the site ready by September 2021.
The Sunday Times reported yesterday a pledge to create more grammar school places is being drawn up for the Conservative manifesto.
Schools Week understands this isn't a pledge for new grammar schools – more a renewed commitment to the current £200 million grammar school expansion programme.
To date, 16 grammars have shared £50 million under the first year of the scheme.
Winners of the second round are due to be announced this autumn. Two Kent grammars have submitted bids for "satellite" expansions.