Dozens of Church of England primaries have fallen from 'outstanding' to the bottom two Ofsted grades, while 16 schools also downgraded had not been inspected for a decade or more.
Schools rated outstanding are exempt from reinspection, but the government has faced growing pressure from Ofsted to allow more regular visits.
Earlier this month, Ofsted revealed it had inspected 305 "outstanding" primary and secondary schools between September 1 last year and March 31, representing 8 per cent of all exempt schools. Of these, just 16 per cent kept their top grade.
A Schools Week analysis of the inspections carried out during the seven-month period, and published on the Ofsted website, showed 16 had fallen from "outstanding" to "inadequate", and 68 to "requires improvement".
Sixteen had not been inspected for a decade or more, with one waiting 13 years since its last full inspection.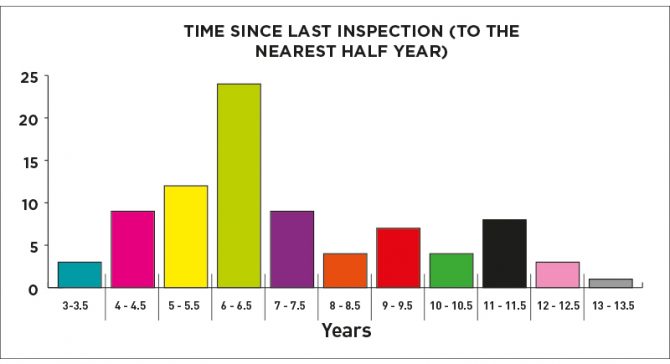 Two of the downgraded schools were Jewish, despite fears from the community that Ofsted was unfairly targeting Jewish schools. Twenty-six were Church of England (CofE), and eight were Catholic.
The Rev Nigel Genders, chief education officer for the CofE, said it was "difficult to draw out any particular pattern" without looking in detail at individual schools, but the church wanted "the very best possible outcomes for children so they can achieve their fullest potential".
"That inevitably involves really rigorous inspections, and so we support Ofsted's new framework."
A spokesperson for Ofsted reiterated its call for the government to drop the exemption and to "fully resource" the watchdog to inspect the outstanding schools.
"The quality of schools can decline for various reasons, but it is often down to the lack of effectiveness of the leadership and management team," she said.
"Taken together, this shows that there are gaps in our knowledge of the schools that were judged to be outstanding some time ago – and why they need to be inspected routinely."
In December, the government told the watchdog to step up its interventions of so-called "exempt" schools so that poor standards of safeguarding could be picked up.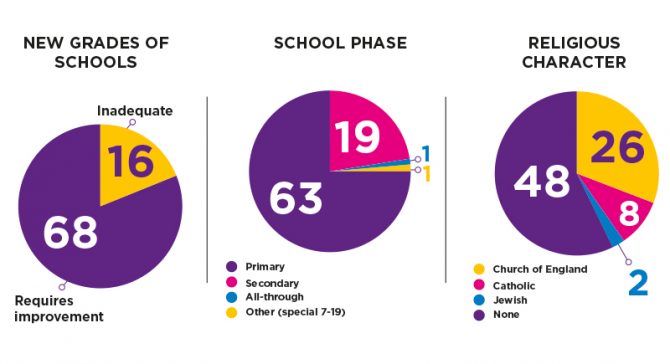 Of the 84 downgraded schools identified by Schools Week, 21 were academies. Nine of these were the only school in their trust. Twenty-eight were community schools, while 18 were listed as voluntary-aided and 11 as voluntary-controlled.
Primary schools were the hardest hit, with 63 falling to the bottom two grades. Ten of the 16 "inadequate" schools were primaries.
Jules White, the head at the "outstanding" Tanbridge House School in Horsham, West Sussex, and leader of the Worth Less? campaign, said the downgrading of schools "emphasises the need for all schools to have frequent and reliable scrutiny".
But he warned that Ofsted's "obsession with a blunt four-point grading system" was misjudged.
"Parents are not well-informed by a system that relies on a snapshot judgment that can't possibly get under the skin of all the factors that influence a school's performance," he said.
Tom Sherrington, an education consultant, said Ofsted inspections were not "reliable enough" to identify the difference between good and outstanding schools "with any degree of consistency".
He said it made sense to drop the exemption, but "not because of some giant scandal that these schools are worse than people are led to believe".