A former RAF skydiver who lost a leg after a parachuting accident during half-time entertainment at a premiership football match, has joined an education programme to inspire schoolchildren.
Nigel Rogoff suffered life-threatening injuries when his parachute jump at Villa Park, Aston Villa football club's stadium, went wrong in 1998.
Now, the ex-serviceman has become an ambassador for SkillForce, a charity that draws on the skills of ex-service personnel to run educational programmes, and will share his story with pupils all over the UK.
"It's a privilege to support young people to develop character, self-confidence and resilience by sharing my life lessons," says Nigel, who had to have his leg amputated after the near fatal accident.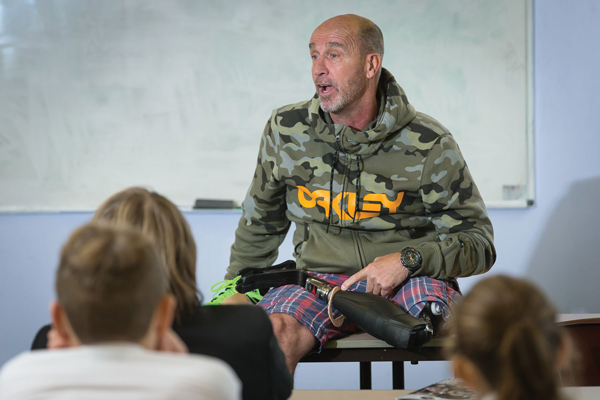 "My main message is that life can be very challenging, but if you accept there will be setbacks, and learn how to cope with and overcome them, you will succeed."
His first talk was at Caldicot School in Monmouthshire where he mentored a group of year 10 pupils taking part in a programme for 11 to 19-year-olds called Onto Next Steps.
The scheme aims to help pupils "stay engaged in their studies, and develop the teamwork and problem-solving skills to help them get on in education, work and life". They take part in activities that revolve around teamwork challenges and community projects.
Ben Slade, chief executive of SkillForce, says: "Nigel is a remarkable role model who reflects our ethos of drawing on the skills of predominantly ex-service personnel to inspire young people to succeed."
In addition to his commitment in education, Nigel and his colleagues will take part in the Talisker Whisky Atlantic Challenge, a 3,000 mile rowing race from La Gomera in the Canaries to Antigua, later this year.
They will be the first all-amputee Row2Recovery team, and will aim to raise funds for injured service personnel.
"I suffered life-changing injuries and the loss of a career," Nigel says. "However, I ended up meeting my wife as a result, and having a family.
"Some people would say that is down to luck. I don't think so. I didn't want to give up on life just because my circumstances dramatically changed. I was determined to find a new positive direction that has also seen me take part in some amazing sporting adventures."
Main pic: Nigel Rogoff (centre left) with SkillForce instructor Christian Jasper and Caldicot School pupils