The Department for Education (DfE) has this morning put out figures on the number of admissions appeals for the last academic year (2015-16).
The department has claimed that most of the data for this year is not comparable to others because of the new school census collection, which now includes verification of each school type – whether they are a foundation, academy, voluntary aided or community and voluntary controlled.
The DfE said that because of this, there was a "notable increase" in the number of schools reporting appeals.
We have gone through the main figures from the statistics.
1. Only about one sixth of appeals were decided in parents' favour
For more than 1.5 million admissions, 62,301 appeals were lodged by parents and 45,784 resulted in an appeal being heard.
Ultimately only 10,192 (22.3 per cent of those heard) were successful.
Although the DfE said the figure can not be compared to last year, it is evident that the new school census has made big impact. In 2014-15 there was 54,600 appeals made – a rise of 14 per cent.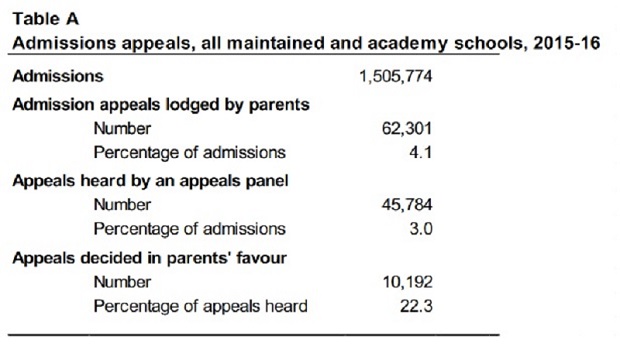 2. Infant years appeals are the least likely to be successful
Just 12 per cent of appeals from reception and years 1 and 2 were upheld. This is most likely down to infant class size appeals, where the class size is limited by law in most schools to a maximum of 30 children.
Other primary years were found to be more likely to be successful, with 32.5 per cent of those heard being upheld. For secondary schools, 26.3 per cent of appeals heard were upheld.
Despite the change in census, this year's figures can be compared to last year for this type of data.
In 2014-15, 13.1 per cent of infant appeals heard were successful, 33.7 per cent for other primary classes and 27.5 per cent for secondary schools.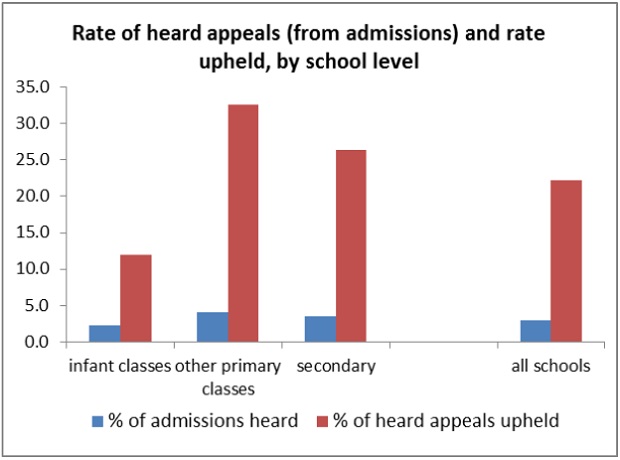 3. Success rates vary for different school types, with foundation schools the most likely to be successful, with 29.7 per cent of heard appeals going in the parents' favour.
Community and voluntary controlled schools had the lowest success rates with 18.8 per cent passing.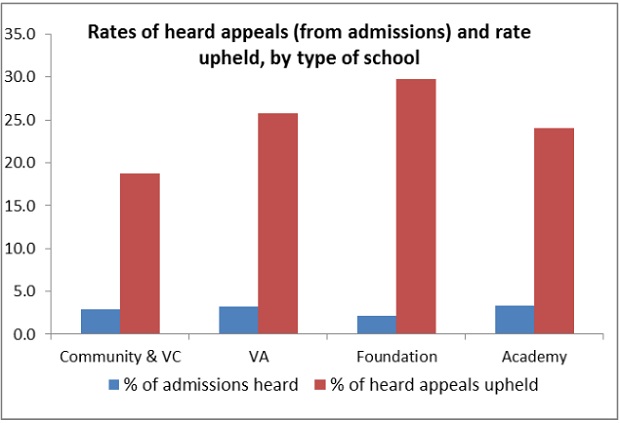 4. Successful appeals vary by location. But local authorities (LAs) in London appear to be the toughest to appeal against. Eight of the 10 LAs that had the lowest proportion of appeals upheld at secondary level were in the capital.

5. There are eight council areas where no appeals went in the parents' favour for infant classes. Again, most are in London.

6. Halton is the local authority area with the most parent success, with 54 per cent of appeals won. The table below shows the top 10 LAs with the highest percentage of upheld appeals.