An academy trust struggling to open a new voluntary-aided school is offering "naming rights" to prospective parents who pledge large enough donations.
A bid by the Avanti Schools Trust to open a new VA school in the London borough of Redbridge was put on hold by the government earlier this year, with the trust given until September 16 to find a suitable site and raise £2 million towards capital costs.
The bid for a new secondary school was one of two deferred by the Department for Education in June. The other was from the Diocese of Southwark in London.
But the government has confirmed that it is still working to identify sites for two schools, weeks after a deadline to find them a home passed.
In a recent parliamentary written answer Michelle Donelan, the education minister, said: "We will provide further information in due course."
The Department for Education reopened the process for new VA schools last year after ministers reneged on a promise to lift the cap on the number of pupils who could be recruited based on their faith in new free schools. But take-up has been slow, with only one application approved in principle so far, and two more in limbo.
The Avanti trust applied to open a Hindu-faith secondary school with sixth form in Redbridge, where it already has a primary school, while the Southwark Diocesan Board of Education wants to open a secondary in Kingston, southwest London.
According to Avanti's website, the trust was told it must meet two conditions by September 16. It had to identify a suitable site and find 10 per cent of the build costs – estimated to be £2 million.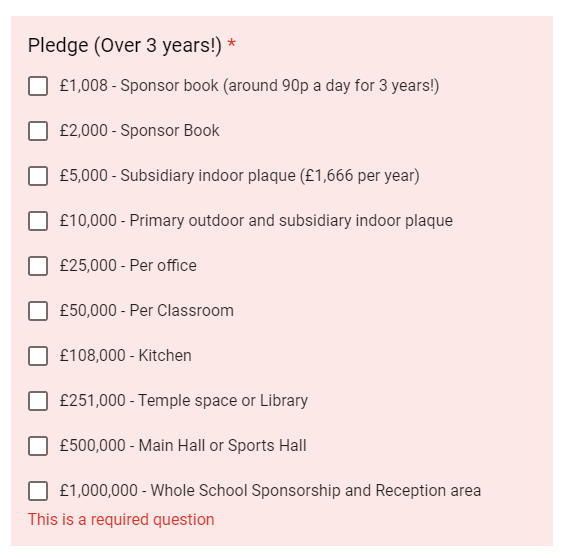 The trust has asked parents to help find sponsors, calling for amounts between £1,000 and £1 million. A "schedule of naming rights for each level of sponsor" will be developed.
According to the fundraising webpage, £5,000 will buy a sponsor an indoor plaque, £50,000 will sponsor a classroom and £500,000 will pay for a main hall or sports hall. Sponsorship of the whole school and reception area would cost £1 million.
According to the website, should the two conditions not be met, the secretary of state is "unlikely to consider our bid any further".
The need for organisations to find 10 per cent of the capital costs of VA schools has been blamed for the slow take-up, particularly among Catholic schools – the original supposed benefactors of the policy shift.
Schools Week revealed in March that Catholic dioceses were finding it "challenging" to open new VA schools as the government received just 14 bids for capital funding in the first round.
A lack of sites, which has crippled the free schools programme in recent years, is also an issue.
Schools Week revealed last month how almost half the new free schools in the past three years opened in temporary accommodation, with most still not in a permanent home.
Avanti has said it hoped to open its new Redbridge schools next September "even if we have to stay in temporary accommodation for a year". The trust did not respond to requests for an update.
Fewer details about the Southwark bid have been published, and the diocese did not respond to requests for comment.