The number of academy trusts issued government warnings for financial mismanagement has soared by more than 250 per cent in a year, with scandals said to be plunging the education system into a "toxic environment".
Government data published earlier this week revealed 25 financial notices to improve have been issued to academy trusts this year, compared to just seven in 2015.
More financial notices have been sent out this year than in any other since notices were first issued in 2012. The government has also revealed that 25 schools, in seven trusts, had to be handed to new sponsors after financial mismanagement.
The system is largely a headlong plunge into the unknown
This year has also included a series of high-profile investigations involving chains previously praised by ministers, such as Durand, in south London, – a case which is still ongoing – and Perry Beeches, in Birmingham.
Russell Hobby, general secretary of school leaders' union NAHT, said: "The record number of financial notices to improve is cause for serious concern.
"The current system is largely a headlong plunge into the unknown: falling budgets, limited oversight and growing challenge make for a toxic environment. We should pause and reflect on how to offer better support and structure to schools."
However the government will point to the growing number of financial investigations as proof it is on top of academy oversight. The findings also come as the government prepares to open up academy finances as part of a transparency drive.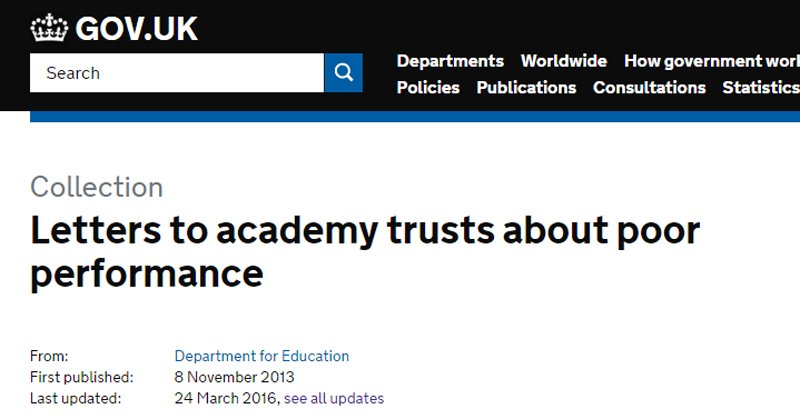 Financial notices to improve, or 'FNTIs', are issued by the Education Funding Agency (EFA) to trusts that have breached rules set out in the academies financial handbook.
Trusts subject to such notices have their spending abilities restricted, and must meet certain conditions or face having their funding stopped.
Responding to a written question from the Labour MP Jess Phillips, children's minister Edward Timpson MP (pictured left) said re-brokerage happens "for a range of educational, financial and governance reasons" and therefore "cannot be attributed solely to an FNTI having being issued".
"The EFA has a clear and robust strategy for intervention that ensures appropriate and proportionate action is taken swiftly in cases of concern."
High-profile recipients of FNTIs this year include the Oldershaw Academy Trust, in Wirral, which was told in February that it must achieve an in-year surplus by next March. It was issued with a notice after it asked for cash from the government to balance its budget.
In March, Bright Futures Educational Trust, the sponsor of nine schools in the north west, was told that it must improve its "weak financial position and financial management" or face closure.
Also in March, a notice was issued to the Perry Beeches Academy Trust after an investigation found it had funnelled more than £1m to a private company which then paid a "second salary" to the trust's "super head" Liam Nolan.
But not all trusts that break rules receive notices.
Last week it was revealed that Bright Tribe, a "top-performing" academy trust given government cash to drive up standards in northern schools, would not be subject to a FNTI – despite having been found to have breached rules over payments to trustees following a government investigation.
The government's interventions have not always been accepted by the trusts issued with notices.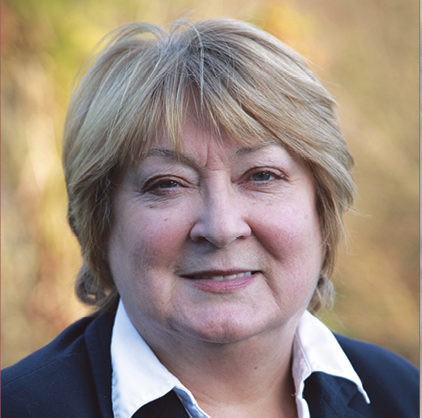 Last month, Dame Dana Ross-Wawrzynski (pictured right), chief executive of Bright Futures, launched a scathing attack on the government's own financial management.
She told a Westminster Education Forum event in London that there was "not enough money in the system" and accused the government of trying to cover up information about its own spending.
The EFA also has its own gripes. Chief executive Peter Lauener (pictured) said he was "not happy" with the length of time it has taken for the government to intervene in some academy trusts.
Giving evidence to the Public Accounts Committee in October, Lauener highlighted the Durand Academy Trust – which has been told its funding agreement will be terminated after it was issued with an FNTI last year – as an example.
He blamed the delay on the "failure" of the trust to "produce adequate responses" to various government warnings.
Durand has vowed to fight the termination notice in court.
A DfE spokesperson said less than one per cent of trusts were issued with a financial notice this year. "Academies operate under a robust system of oversight and accountability, and we will not hesitate to investigate and take action where concerns are identified."