Costs for the academy transfer market have surpassed the £30 million mark as a record number of academies were rebrokered this year.
Figures released by the Department for Education today show that 307 academies moved to a new trust in 2018-19, equating 3.6 per cent of all open academies in England. This is an increase from 255 last year (3.3 per cent) and 196 in 2016-17 (3 per cent).
The DfE has now spent over £31 million in grant funding to entice new academy trusts to take over failing schools since 2013. However the true costs of academy transfers are likely to be much higher.
The figures released by the DfE exclude a host of other payments handed out during such deals such as deficit funding, statutory repayments, capital costs and diseconomies of scale.
But, despite more academies being transferred this year, the amount of grant funding handed out by the government has actually decreased. A total of £6.5 million was given to 80 academies this year, down from £7.6 million to 53 academies in 2017-18, and £8.4 million to 61 academies in 2016-17.
The DfE said data on grant funding provided since 2016-17 is not comparable with earlier years because of differences in what is included in the total costs. Grant funding has only been given to 270 (29 per cent) of all academies that have transferred since 2013.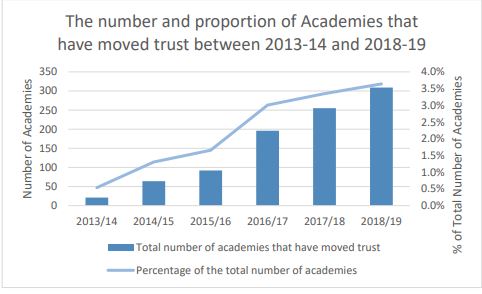 Meanwhile, of the 307 rebrokers this year, over a third were a result of the DfE directly intervening, either through transferring schools or closing sponsors because of failures.
A total of 57 schools are officially listed as being transferred because of government intervention. However, another 46 schools transferred because their sponsor closed voluntarily after DfE intervention, and a further four are listed as 'intervention closure', including the Durand Academy and three schools previously run by the Link Education Trust. Seventeen other schools transferred because their sponsor closed without intervention.
A Schools Week investigation last year found 91 trusts had been or were in the process of being wound up. Some collapsed with multi-million pound debts.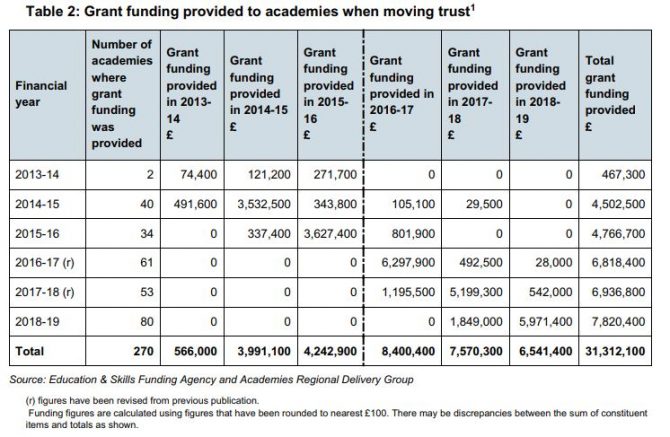 Two payments of £250,000 in grant funding were handed out this year – the highest amount. REAch South academy trust received the money to takeover UTC Plymouth, with the school moving in October 2018, while Core Education Trust was also handed £250,000 this year after taking over Arena Academy from the Perry Beeches Academy Trust in 2017-18. The trust was also given £150,000 last year.
Another 14 deals involved payments of £150,000 this year (see full table below). Schools Week revealed in 2017 how the DfE tried to hide emails from the then academies minister Lord Nash revealing how he had tried to massage the presentation of academy rebroker figures.