Core subject teachers are being offered a £5,000 cash incentive in a bid to lure them to work for a multi-academy trust in Kent.
The Swale Academies Trust is advertising the "salary enhancement" to full-time maths, science and English teachers, but not to staff in other subjects such as food technology. It comes amid growing concerns of teacher shortages, especially in maths and physics.
Last month the government announced it will increase tax-free bursaries to encourage the "best and brightest" graduates into teacher training, with core English Baccalaureate (EBacc) subjects getting the biggest boost.
The £30,000 tax-free training salary is £7,500 higher than the starting wage for teachers, meaning new teachers will earn less once they start working full-time.
One job advert from the Sittingbourne Community College (pictured below), one of the Swale academies, reads: "In recognition of the vital role played by core teachers, we offer an additional salary enhancement of up to £5,000."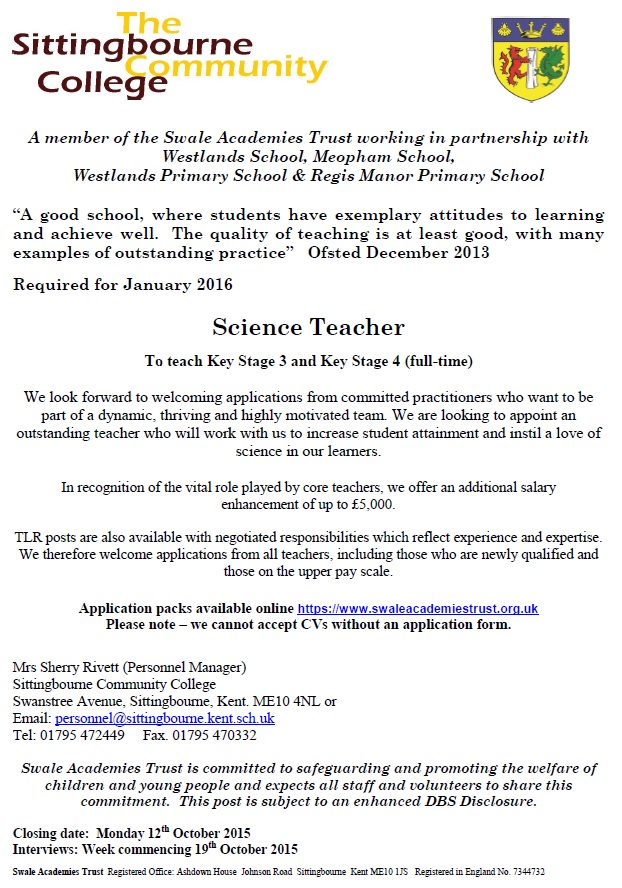 But Dr Steven Watson, lecturer in mathematics education at the University of Cambridge, expressed concerns about this type of recruitment technique.
"It is a severe problem offering these incentives to just core subject teachers instead of others, because you want a balanced curriculum with very strong RE and other course teachers.
"This incentive just puts a narrow focus on these core subjects whereas we need to focus on a broad curriculum."
Dr Watson also said that schools "competing for teachers in an unregulated and unfair way will put those with high proportions of low socioeconomic status children at a further disadvantage".
He called for teacher wages to be regulated so that schools "work together to support the progress of all the children in the community they serve.
"In many cases these [struggling] schools have the more challenging intake, for example, pupils with additional educational needs or those that might come from homes that are not particularly school-oriented.
"You can end up with a situation where you have well-staffed schools with a predominantly middle-class intake, getting good results and being rewarded through the accountability system."
In her latest letter to the teacher pay review body, education secretary Nicky Morgan asked the group to consider greater "flexibilities" for teacher pay – including bonus payments, advance salary schemes to cover rent deposits, and permitting teachers to move down the pay scale when changing jobs.
The trust declined to comment.